We aim to:
Create a skilled and inclusive workforce today and for the future.
Help build and sustain thriving communities in which we live and work.
Play our part to repair and sustain our planet.
Ultimately, we are taking a sustainable view of our business performance, the "how we do things at DWF", to maintain and enhance our long-term value.
Our guiding principles
Globally, three basic principles guide our actions as a responsible business.
Building long lasting relationships.
Active engagement and participation across all our offices.
Measuring and reporting our impact.
Our commitment to impact
We are putting sustainability at the heart of what we do.
Our five-year responsible business strategy aligns with the UN Global Compact's universally accepted business principles, and our actions are prioritised to contribute to the UN Sustainable Development Goals.
We remain an active member of Business in the Community (BITC), the oldest and largest business-led membership organisation dedicated to responsible business and use their Responsible Business Tracker to assess our performance.
BITC's Responsible Business Framework guides our actions globally to address those issues most pressing in society where we can make the most impact.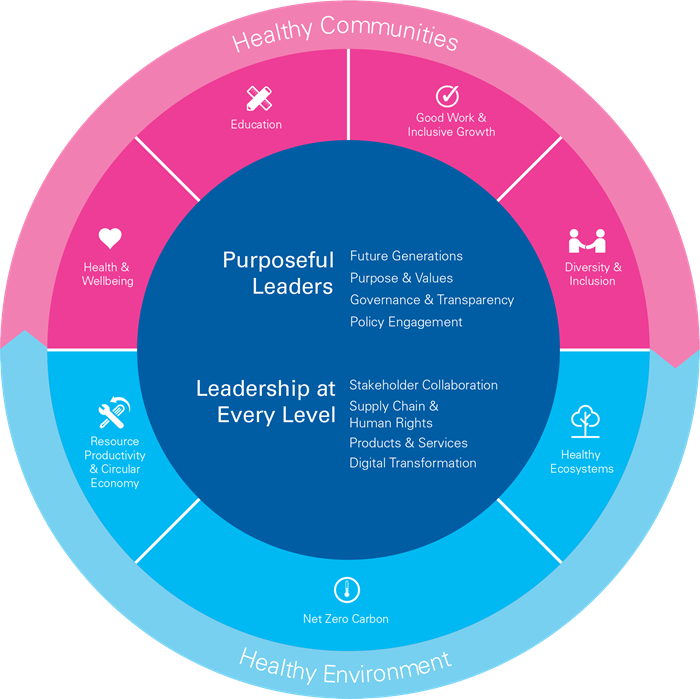 Image sourced from Business in the Community
Healthy communities
Youth skills and employment
We recognise that whilst talent is everywhere, opportunity isn't, particularly in areas with low social mobility. That's why it's important to us to not only remove barriers to widen access to our profession but to build an emerging pipeline of diverse talent to sustain it.
Globally, over 270 million young people are not in education, employment or training, so our priority is to develop a variety of opportunities for young people to increase their confidence and resilience and to gain valuable employability skills to become work ready.
DWF Foundation
The DWF Foundation (also referred to as 'the Foundation') is an independent charity, founded by DWF in 2015.
Our employees raise funds to enable the DWF Foundation to provide grants to charities whose work impacts people in locations where we have a presence. This also offers the Foundation and the charities it supports, access to skills based volunteering.
Employee volunteering, where our staff donate time and skills during work hours to tackle local social issues, is an effective and powerful way for us to invest in our people and our local communities.
In 2018, following our listing on the London Stock Exchange, DWF donated 1.8 million shares to the Foundation.
Find out more about the DWF Foundation
Wellbeing
We want to continually improve the health of our business through a combination of preventative, protective and proactive interventions that address the cause as well as the effect of any health and wellbeing issues.
We also want to increase the resilience of our business and ensure that as far as possible, our people do not suffer stress related illness as a result of their work. In 2019, we signed up to the Mindful Business Charter, a collaboration initially between the financial services and legal sector to change the way we work by removing avoidable stress.
Healthy Environment
Climate Change is our most pressing shared challenge and opportunity.
Carbon emissions generated by the energy DWF uses and the travel we undertake, impacts our contribution to climate change. Whilst 80% of the waste we generate is recycled, our ambition remains to minimise our impact as a low carbon and more circular business.
We have an environmental management system certified to the international standard ISO 14001 in the UK and in 2018, signed up to BITC's Waste to Wealth, a commitment to increase resource productivity and eliminate avoidable waste by 2030.
We measure our progress against our environmental targets throughout the year and report externally at the end of each financial year in our Annual Report.
UN Global Compact
DWF supports the principles of Human Rights set out in the Universal Declaration of Human Rights and the International Labour Organisation core labour standards and launched our Global Human Rights Policy in February 2018.

We are a signatory to the UN Global Compact and its business principles covering human rights, employment standards, environment and anti-corruption. Read our latest Communicating on Progress Report

In 2016, we also became a signatory to the UN Women's Empowerment principles.