The aim of each local DWF Young Professionals Committee is to expand professional networks, primarily through organizing and attending professional networking events. COVID-19 has had a considerable effect on activity, but with lockdown restrictions easing we hope to be able to move forward with some exciting events in the near future. In this article we look back at what some of our committees have been up to over the past year, as well as setting out some plans for when we are all back to what will be the 'new normal'.
Leeds
DWF YP Ball - On 31 October 2019 we held our annual ball at The Queens Hotel which was attended by over 120 young professionals, including attendees from: PWC, KPMG, Mazars, Brewin Dolphin, Turner and Townsend, HSBC, Deloitte and BHP to name a few! The theme for this year was "Royal Halloween" due to the date – but the dress code remained as black tie which gave everyone an excuse to get glammed up. Guests were treated to a glass of fizz on arrival followed by a three course meal. We had local band 'Elevation Avenue' performing after dinner who were great, followed by a classic DJ and disco keeping the dance floor full!

We arranged a charity raffle on the night with some amazing prizes up for grabs, such as GHD straighteners, tickets to see Jack Whitehall in the DWF box, brewery tours, escape rooms and tons of local restaurant vouchers which were very kindly donated from a number of local businesses. We raised over £1,000 with all proceeds donated to the DWF Foundation.

DWF YP Quiz - Just before Covid-19 tipped our worlds upside down, we managed to squeeze in our annual young professionals' quiz night at East Parade Social on 11 March 2020. Little did we know this would be our last event for some time, so we're really pleased it managed to go ahead! We had over 80 young professionals sign up, including lots of familiar faces and some new attendees from Begbies Traynor, Investec and Park Place Corporate Finance.

We hired a local quizmaster who was very entertaining with some interesting and unusual quiz rounds. Everyone received two free drinks and a pizza buffet. Brewin Dolphin were the winners and were awarded tickets to see Cirque du Soleil in the DWF box at Leeds Arena. There was also a prize for the best team name and even a prize awarded for the last placed team!
Liverpool
Christmas Markets Event - In December 2019 DWF Liverpool held its inaugural "DWF Presents – A Christmas Market!" – an opportunity to get together with local young professionals while raising funds for the DWF Foundation.

The boardrooms and client suite were transformed into a winter wonderland, complete with some very realistic looking fake snow, a playlist of festive tunes and local independent traders selling their wares. Attendees enjoyed the chance to socialise and do some Christmas shopping, while enjoying canapés, refreshments from the bar and of course a glass or two of mulled wine! Attached are some photos of the set-up before guests began arriving.

Thanks to some generous donations we were also able to raffle off some great prizes including bottles of Liverpool Gin and a Liverpool One voucher.

It was a great evening, rounded off by raising much needed funds for the DWF Foundation. We are looking forward to 2020's event already (in the hope that lockdown will be over by December).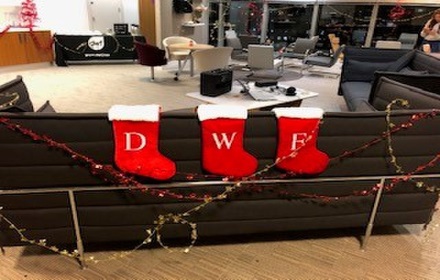 London
YP Quiz Night - Last year we hosted the inaugural DWF London YP quiz night. We were delighted to be joined by nearly 90 London-based YP's for a quiz evening accompanied by pizza and prosecco. This gave YP's the chance to network in an informal setting whilst enjoying the views from our office on the 31st floor of the Walkie Talkie building. Following the success of this, we hosted another well attended event at Bounce Shoreditch, a purpose-built 'Social Ping Pong Club', where YP's were able to meet other like-minded individuals whilst getting competitive on the Ping Pong court.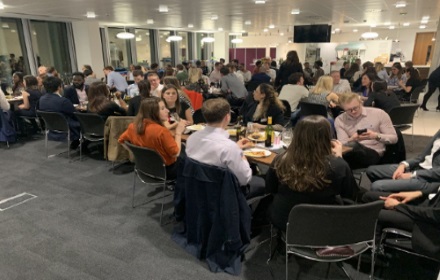 YP Essentials Series - More recently, we launched the 'YP Essentials Series', a set of informative events designed to provide young professionals in London with skills and knowledge for personal and professional development. In November 2019, we collaborated with Fortress Wealth Partnership LLP (a partner of St James' Wealth Management) for a 'Money Management' event, which provided an overview on important financial matters for YP's including investing and savings. Our second event, 'Get on the Property Ladder' took place in February 2020, we were joined by ALL Financial Advice Ltd for an informative evening to explore important considerations for YP's when buying their first home. Whilst we are currently unable to hold events in person, we hope to be able to continue hosting events in this series virtually, including an event focusing on helping YP's to market themselves and build their 'personal brand'.
Manchester
YP Ball - Manchester's Young Professional annual ball again took place in September last year.

The best of Manchester's young professional scene dressed up in their finest to attend Harvey Nichols Brasserie to dine, network and dance the evening away. The evening included a presentation by DWF partner, Lisa Stavropoulos, who spoke brilliantly on the importance of connectivity, building networks and developing career spanning relationships. Representatives from corporate clients of DWF and key businesses in Manchester attended the night, such as Zeus Capital, the Co-operative and Grant Thornton.

Particular highlights included DWF branded cupcakes, questionable shapes on the dancefloor and delicious satay skewers. It was a great opportunity for Manchester Young Professionals to make new contacts and catch up with old friends in the industry.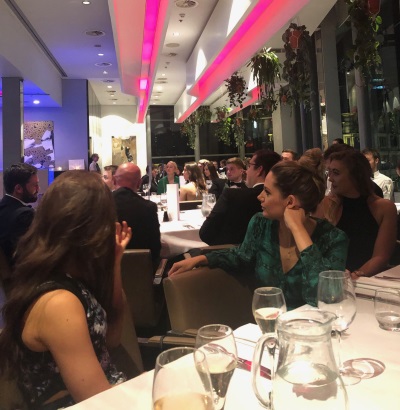 2020 - The Manchester YP committee has been working hard on a 2020 events calendar. This includes a night of darts and pizza at Flight Club, a chance to indulge in a nice breakfast and connect at a breakfast seminar and of course, the annual black tie ball. Our plans have been somewhat circumvented by Covid-19, however those plans have only been postponed and we look forward to seeing as many of you as possible as soon as we are able.
Scotland
The Scottish YP Committee has been up and running for several years now, hosting regular relaxed events, for those in the early stages of their career to socialise and develop their network. Some event highlights include:
A casino evening in Edinburgh with croupiers on hand to show us how to partake in games such as blackjack, poker and roulette.
The annual DWF YP Music Quiz (karaoke optional!).
Blind wine and gin tastings hosted by local Scottish businesses.
An evening hosted by Cally Russell (Founder and CEO of internet fashion app Mallzee) who spoke to us about his appearance on Dragon's Den, where he surprisingly turned down investment from dragon Peter Jones, and Mallzee's subsequent business success.
Entering a touch rugby team (aptly named "God Loves a Tryer") in the Edinburgh Vialex league.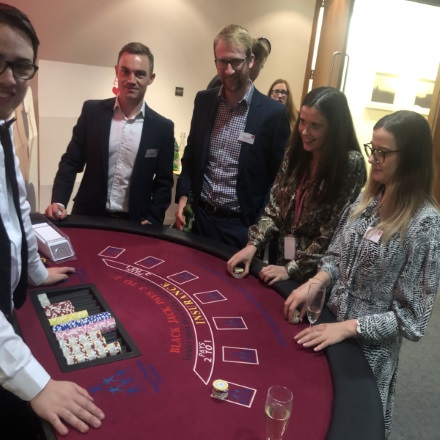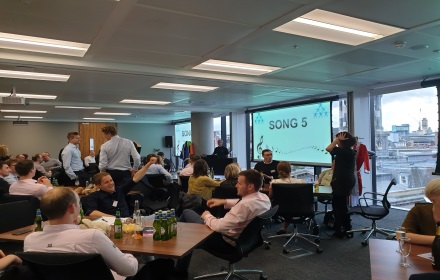 Photo evidence is attached! We're already looking forward to planning our next (likely virtual!) events and look forward to seeing you then.

If you would like to be kept informed of ongoing Young Professionals activity and receive invites for forthcoming events, please sign up to our mailing list.
If you would like to hear more about our Young Professionals in Scotland, click here >
Authors: Hayton Tang, Rebecca Rebotis, Elinor Hughes, Thomas Charnley, Siobhan Cameron and Emma Wilson.