Whilst Covid infections remain high, there seems no intention from the authorities to roll back on the easing of restrictions, with faith being put in the vaccination programme.
August is often a quiet month in the middle of the holiday season, but there is as ever plenty of data to interrogate and continued interest and debate around the new OIC portal. In respect of the latter, we understand and hope that next month we will have some meaningful figures to measure the early impact of the reforms on claims frequency at least.
OIC news and developments
Official Injury Claim Advisory Group (OICAG) - The MoJ has updated its Whiplash Reform Programme guidance page to include new guidance on the OICAG. The new guidance reflects the establishment of the OICAG to assist the government in the implementation of its Whiplash Reform Programme. It sets out the role and membership of OICAG, as well as stating that the first meeting of OICAG is scheduled to be held on 30 September 2021. See Official Injury Claim Advisory Group.
Other than that, there is little new to report. We still await a number of larger claimant firms uploading new SCNFs, and medical reports to flow through in greater numbers to give a better idea of whether the reported high numbers of additional injuries and exceptional circumstances on the SCNFs will be reflected in the reports.
Guideline Hourly Rates consultation and FRC
The Master of the Rolls has now formally accepted the changes recommended by the Civil Justice Council's (CJC) working group on Guideline Hourly Rates (GHR), and has asked that the recommendations are implemented, with a view to the new guide being used from 1 October 2021. He did agree with the Civil Justice Council that there should be a further review of guideline hourly rates, reporting within two years to take into account working practices post-pandemic.
The CJC final report responded in detail to concerns expressed during a consultation on the rates, and sets out why the working group were not persuaded to make substantial modifications to any of the recommendations. Civil Justice Council publishes final report on guideline hourly rates.
As a reminder, Grade A National 1 rates are set to rise 20.2% to £261 per hour with some London rates rising by even more, London 1 for Grade A rising 25.2% to an eye watering £512 per hour.
On a slightly more positive note, there may soon be some movement on the long awaited extension of Fixed Recoverable Costs. However before getting too excited, it should be borne in mind that the consultation on extending FRC closed in 2019 and it is likely further work would be needed prior to implementation as well as no doubt a further review of the figures proposed. Whether that would necessitate a further consultation remains to be seen but hopefully that can be avoided.
New Drivers, the Highway Code and Vulnerable Road Users
There are a lot of issues currently bubbling around that may come to influence motor claims frequency over the coming months and years.
Firstly, there is concern around the number of new drivers coming through both from a learner driver and HGV driver perspective. Direct Line is predicting that the coming years could see a boom in new drivers, as test centres see an influx of learners from the past two years, looking to take their test. With an average of 1.6m tests taken every year, combined with an estimated 1.2m tests, delayed in 2020/21, as many as 2.8m driving tests could be taken this year.
Separate reports suggest a backlog of 500,000 new drivers caused by a suspension/reduction in tests over the last 18 months and a shortage of driving instructors. And just to add to the melting pot, there is also a HGV driver shortage with 43% fewer tests in 2020 compared to 2019. In July 2021 a backlog of 25,000 test applications for HGV drivers was reported.
Whoever is taking their test in the near future will also have to get to grips with an amended Highway Code designed to improve the safety of pedestrians, cyclists and horse riders following the consultation earlier this year. The Department for Transport has carried out full analysis of the consultation responses received and will be seeking to introduce all the proposed changes - Government response to the review of The Highway Code
As a broad reminder, the main changes proposed were:
introducing a hierarchy of road users which ensures that those road users who can do the greatest harm have the greatest responsibility to reduce the danger or threat they may pose to others
clarifying existing rules on pedestrian priority on pavements and that drivers and riders should give way to pedestrians crossing or waiting to cross the road establishing guidance on safe passing distances and speeds when overtaking cyclists or horse riders, and ensuring that they have priority at junctions when travelling straight ahead
Whilst the hierarchy mentioned has for a long time been implicit, making it explicit could lead to a position where presumed liability rests with the driver in an accident involving vulnerable road users, along with greater complacency among pedestrians and cyclists too.
They now plan to finalise the text and produce a revised version of The Code that will then be laid before both House of Parliament for the required period of 40 days. If Parliament agrees to the proposed changes being made, the DfT will work with the Driver and Vehicle Standards Agency to update The Highway Code online and to produce a new hard copy edition in time for the next print run.
On 27 July, the DfT also released a plan to make England a great walking and cycling nation, grouped under four key themes:
Better streets for cycling and people
Cycling and walking at the heart of decision making
Empowering and encouraging local authorities
Enabling people to cycle and protecting them when they do so
The plan includes establishing at least one "net zero emission city" and also improving The National Cycle Network. The combination of increased new drivers, and increased numbers of vulnerable road users is also likely to see a spike in accidents. See Ian Slater's blog here Vulnerable Road Users – are we heading for a crisis?
One of the inevitable consequences of more young drivers on the roads is the increased risk of fronting - Research for GoCompare surveyed more than 1,000 parents of children aged between 17 and 25 who were either learning to drive or were young drivers. When asked about their child's car insurance, almost one in four said that the insurance for their child's car was in their name, and the child was named as an additional driver. The numbers are up significantly from the one in 10 parents who admitted to fronting in 2019.
More than half of all parents across the UK said that they'd consider putting themselves as the main driver to save money on a car insurance policy. Given the openness of the survey results, it would tend to suggest a lot of people still don't see fronting as fraud.
E-scooters
Despite the law being clear, a survey carried out by a Manchester law firm last month revealed that 16% of those surveyed still think e-scooters can be used on the pavement and 29% think private e-scooters can be used on public roads. One does wonder however whether a survey would find similar numbers thinking riding a push bike on the pavement is legal.
Reports of injuries involving e-scooters and people flouting the regulations continue to flood in (see here for example - E-scooter trial chaos sees 1,000 riders handed bans: Liverpool had spike in complaints | Daily Mail Online) and last week insurer More Than published research that showed 40% of people are more anxious due to the increasing number of e-scooters on the roads, and 56% believe it has made the roads more dangerous.
The trials are scheduled to run until February 2022 and at that stage a decision will be made about the future regulation and insurance position. The difficulty is that a lot of the reported incidents are not actually as a result of the trials, but the trials themselves have made it harder to distinguish between a personal e-scooter as opposed to one legitimately ridden through the scheme. It may be difficult to row back from the introduction of e-scooters on UK roads, but the need for a proper regulatory framework and clarity on what is, and is not permitted, is already clear.
Transport Data
With restrictions fully eased and many on holiday or away from work, the question really is whether we have reached an end state in terms of traffic on the roads or whether there is more to come. For all motor vehicles combined the percentage compared to March 2020 is consistently around 95%, with cars slightly below that level and LGV/HGVs above it.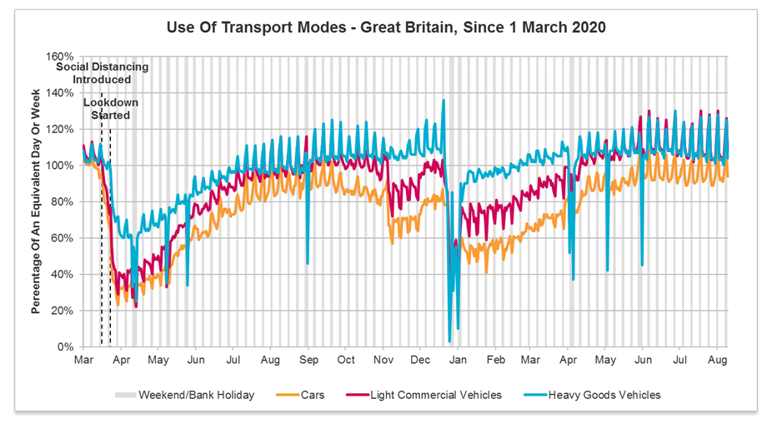 We also have to bear in mind seasonal variations in that the statistics are comparing July/August and school holidays with late winter
The area that may yet change is in relation to rail, tube and bus travel where usage remains well down. If they increase, might that be at the expense of motor vehicle usage? Or will both increase as more people return to offices? Time will tell, but any changes for the future look likely to be gradual.
Footfall and Economic Data – ONS
ONS data is available up to 19 August. Amongst the wealth of data it appears that retail footfall remains sluggish compared to 2019 levels at 81%, however that 80% figure does demonstrate a rise of 7% compared to our last look at the figures a month ago and the trend is distinctly upwards: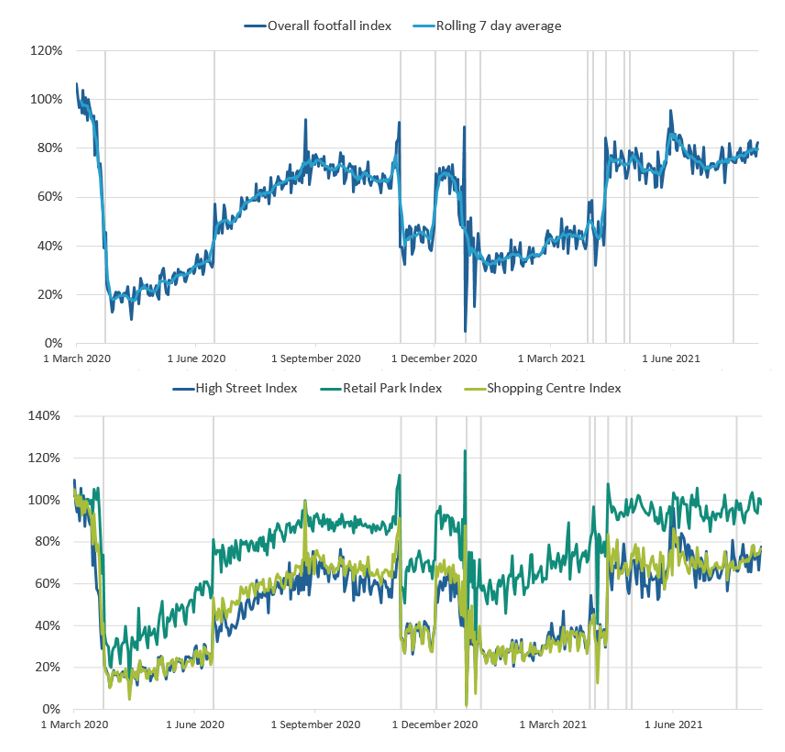 The ONS data suggests that 67% of people are now at their normal pre-pandemic place of work, a figure that has risen from 35% in June 2020.
Dining out on the other hand is most definitely on the increase as the UK recovers from lockdown slumber. According to OpenTable booking data, the seven-day average estimate of UK seated diners increased by 5 percentage points in the week to 16 August 2021, to 133% of the level in the equivalent week of 2019: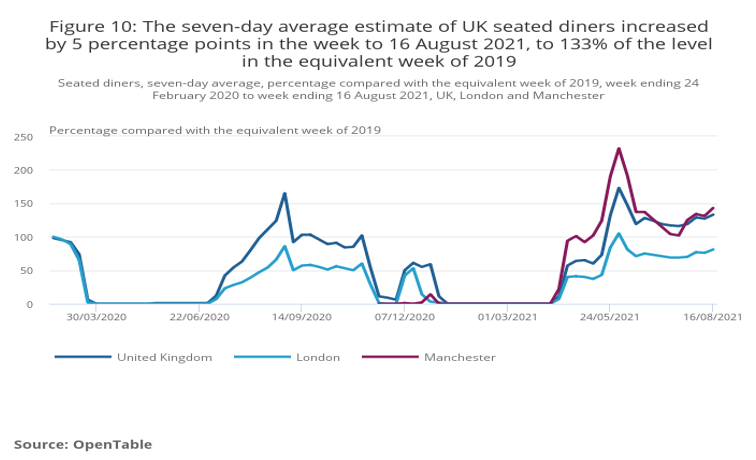 Court Watch
As we've previously mentioned HMCTS have temporarily stopped publishing weekly management information while they conduct some technical work following changes to case management systems across jurisdictions. However HMCTS monthly statistics have been released up to the end of June 2021.
These show that activity levels were obviously up compared to June 2020 – with 137,988 claims received versus 55,997 the prior year. Unfortunately in the same time period, the gap between issue and small claims hearing increased to 48 weeks, up from 43 weeks in June 2020. If there are any positives, at least it is down from the 52 week high experiences in Feb 2021: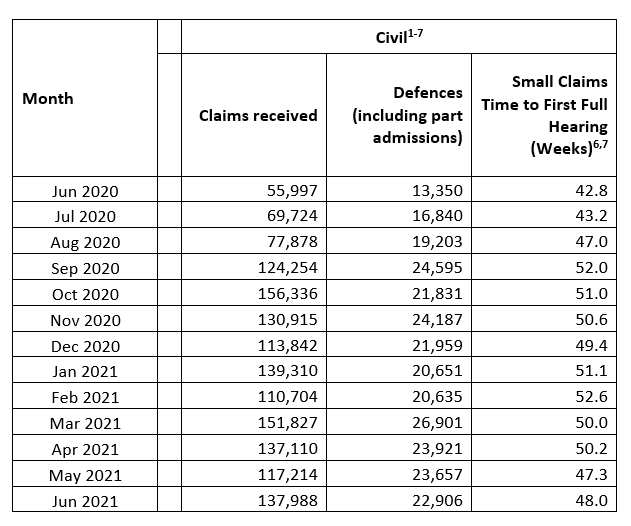 Portal Statistics
We now have the portal statistics for July 2021 but again please treat with caution given the 'unknowns' presented by the lack of OIC comparative statistics.
RTA: CNF figures have fallen off a cliff with claims transferring to the new OIC portal. 14,981 new RTA CNFs were submitted in July 2021, 62% down on the prior year: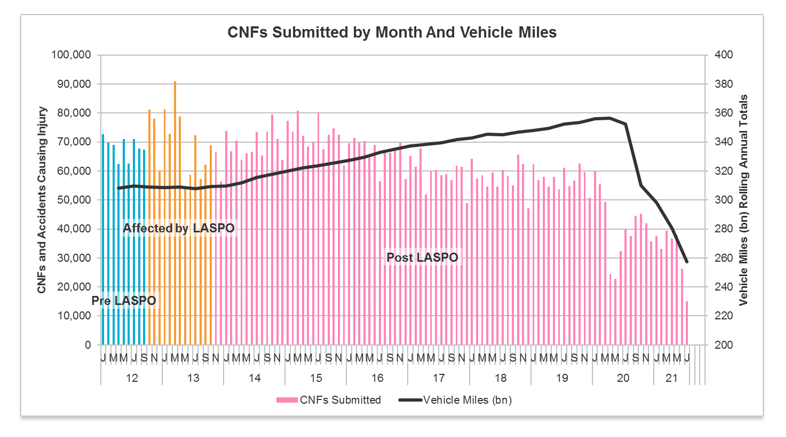 The cumulative figures that had started to climb, are unsurprisingly down but once we have data from the OIC we can overlay that to understand the true picture around claims frequency. Although that may also be temporarily skewed as we wait for all claimant firms to join the OIC party.


EL: The previous month saw a rise in new CNFs and that rise has been maintained, albeit only a small increase here of 1% on the prior month to 2,442 new submissions: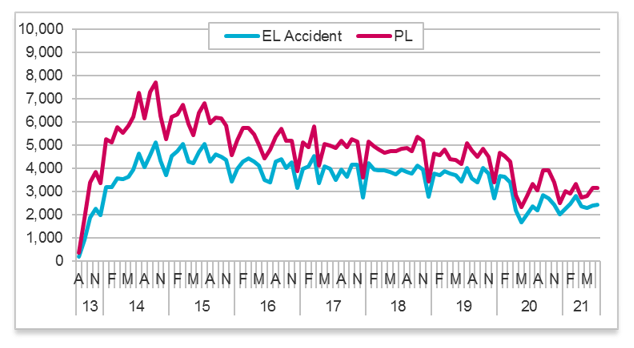 PL: After several months of increases, new PL CNFs have flattened out with a 0.4% drop on the prior month, 3,155 new cases being submitted.
Both EL and PL new claims are relatively static and remain well down on the pre pandemic levels.
PSLA and Court Packs : PSLA in RTA rose again breaking the £3,000 mark for only the second time since records began, now at £3,031 average. This is 1.8% up on the prior month and I think we can expect this increase to continue over time as the older claims settle with longer prognosis periods, and there are fewer new claims coming in with shorter prognosis periods.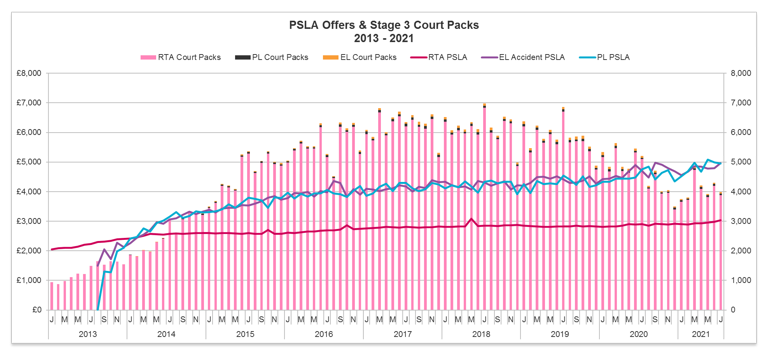 Court Packs dropped however, to 3,876, down 7.7% - although this might just be reflective of July being a holiday month. Certainly, the trend of increasing percentages of court packs continues: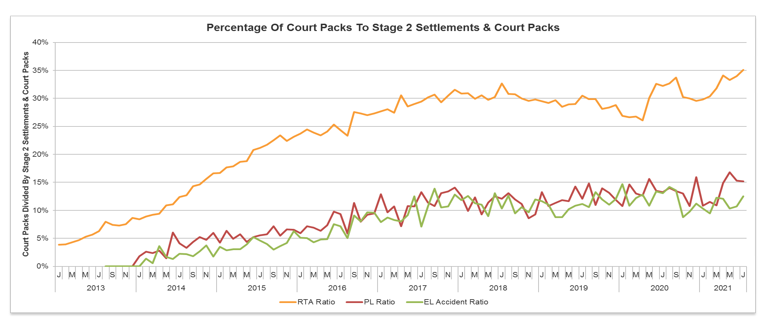 In EL, PSLA was up again, by £166 to £4,961, and average PSLA looks likely to soon break the £5,000 mark. Court Packs were up slightly to 54.
For PL claims PSLA dipped slightly to £4952 and Court Packs dropped to 56.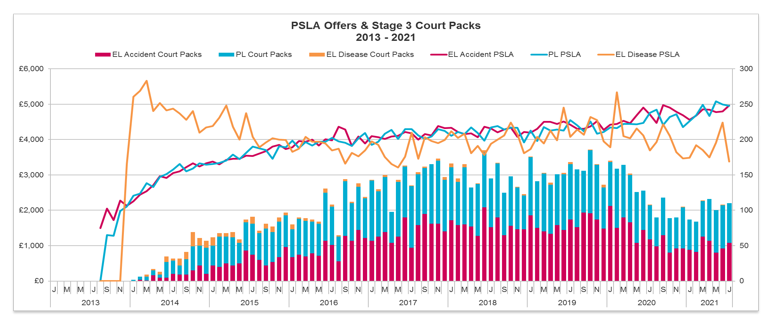 I've also included a reminder from last month of the trend line in EL and PL PSLA settlements: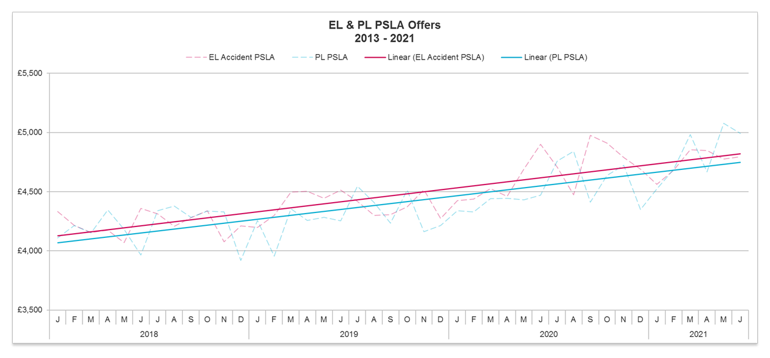 Retention
Like last month, with CNFs drastically down, RTA retention has dropped but that is probably no longer a valid statistical marker now that the majority of claims are going through the new OIC portal: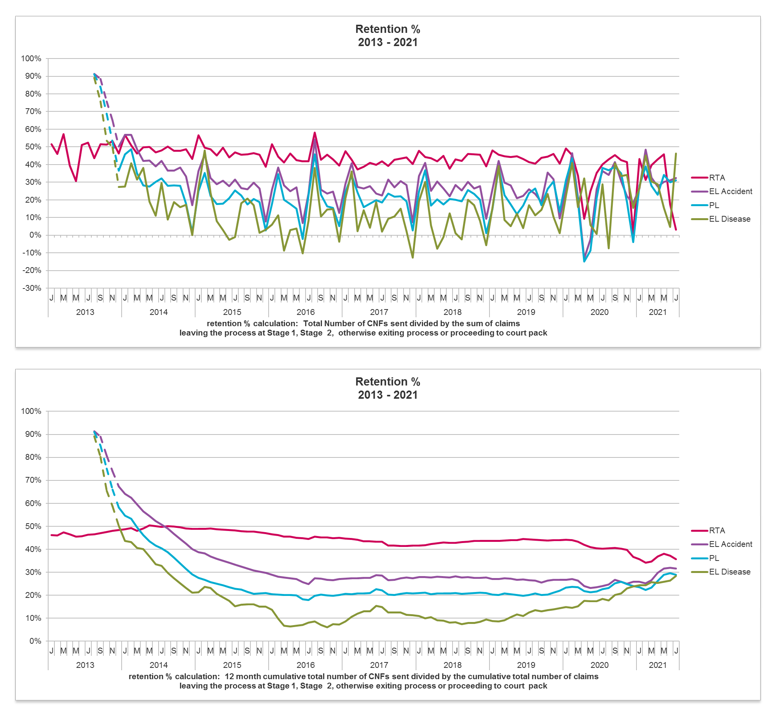 Conclusion
And so a quiet month in some respects but plenty of change on the horizon as always. We hope that in addition to the usual statistics and horizon scanning we might be able to report in more detail on data from the Official Injury Claims Portal next month.