With further delays confirmed to the lifting of lockdown with a four-week delay now announced due to the rise of the Delta variant, we are now able to look at what will be the last data from the claims portal in isolation, ahead of the "go live" of the OIC portal. Although the portal only went live on 31 May, some insurers have expressed concern at the low numbers of claims that have been received, leaving some wondering when the trickle may turn into a flood.
On the EL/PL side with the lifting of restrictions in April and May, again accidents and claims should start to rise but that's not reflected in new CNFs as yet.
Reforms Watch
So finally the new online portal has gone live, perhaps a day some of us thought would never come to pass! Six years in the making, industry eyes will now be on the new OIC portal to see if it is a success but what does success actually look like? It is worth revisiting the last MOJ impact assessment from the Civil Liability Act 2018 which had some key assumptions that are already looking a bit shaky:
Firstly the base case assumed a starting position of around 700,000 RTA claims per year. As can be seen from the Portal stats below, Covid has already reduced that to 450,000.
Then after liability disputes and claims out of scope were taken out, it was assumed there would be 520,000 claims as a base level.
A key assumption was that 50% of the claims that would fall within the tariff up to 6 months would no longer be brought given the reduction in damages. That would result in 120,000 claims falling off the radar and £250m of savings per annum.
A further key assumption which would result in a saving of £645m per annum was that damages in the remainder of claims in scope would reduce significantly in line with the tariff. No allowance was made in that figure for the effect of continued "additional injuries". Instead it was simply mentioned as one of the risk factors. Depending on how those claims are ultimately valued, they are likely to make a serious dent in the government's projections of estimated savings.
It was also assumed that claims for exceptional circumstances would be "rare" and an increased number of such cases would simply be an additional risk.
A further assumption was that 30% of claims would come from unrepresented claimants with 50% being BTE represented and 20% having non BTE funding.
Likewise there will be pressure on insurers to reduce premiums. Arguably some of the reductions may have already been priced in as the latest ABI motor insurance premium tracker showed the average premium at £436 in Q1 2021, the lowest average premiums for five years. But of course one cannot ignore the effect of Covid and the reduction in claims on those latest figures.
The MOJ did finally produce something of an advertising campaign, if it can be classified as such, on the bank holiday weekend - Over £1 billion savings for motorists as whiplash reforms come into force. Readers of publications such as the Sun, the Daily Mail and the BBC online would know something was changing if they read far enough down the headlines on 31 May, but perhaps not the level of detail in the 64 page user guide. And whilst if I do a search for "Official Injury Claim" the government website appears straightaway, if I search simply for "whiplash claim" a vast array of claimant solicitors and accident management companies offering assistance appear well before any official website.
It is still far too early to draw any substantive conclusions from new claims so far. At the time of writing, it does not appear that all of the larger claimant solicitors have started to submit claims in volume, most likely waiting for A2A capability before doing so. Of those claims that have been received, as expected the majority are currently from represented claimants. Reports vary of course, but claims with an intimation of additional injuries seem to be on anyone's assessment over 50%, and exceptional circumstances are also being claimed in what might be termed a significant minority of cases
We wait to see what industry data will be produced by the MOJ, but suspect that might fall into the category of "behavioural data" that is not published regularly as opposed to the operational data we can expect to see.
As we know one of the main areas of difficulty is the non-tariff element of the claim. The cross sector working group previously set up has now been confirmed as being facilitated by the MIB with the aim of seeking clarity on mixed whiplash injury and non-tariff injury claims. MOJ officials are said to be aware of this proposal and support the principle of industry collaboration to improve the claims process for injured parties. The group will work together to create a framework to take forward a range of test cases with the aim of obtaining guidance on dealing with mixed injury claims from the courts.
Even with APIL, MASS and the ABI joining forces on this, it seems unlikely that a test case will leapfrog to the Court of Appeal any time soon, during which time uncertainty will remain. Confidence in a quick resolution involving the courts will not be enhanced by the latest statistics from HMCTS which show the average time for reaching a small claims hearing to have increased to 51.5 weeks in Q1 2021. That's 11.9 weeks longer than in the same period last year driven mainly by Covid-related lockdowns. It remains to be seen whether some middle ground can be reached between claimants and compensators in the meantime to avoid a backlog of cases.
Finally, attention will also start to turn to other reforms in the pipeline, including Part 2 of the Whiplash reforms themselves which will look at credit hire and rehab, a review of the general Pre-Action Protocol and all the current area specific PAPs in place and, eventually, an expansion in the fixed costs regime. There are also continued long term goals to digitalise the court process and bring forward the Online Court.
E-Scooters
In a significant development it was announced earlier this month that five London boroughs including Ealing, Hammersmith and Fulham, Kensington and Chelsea, Richmond and the City of London will participate in a 12-month trial from 7 June. Tower Hamlets will be a "ride-through" borough but, except for the Canary Wharf estate, scooters cannot be hired or parked. However, the City Corporation said it would not be joining the scheme until 5 July, apparently due to a delay in resolving administrative rather than safety concerns.
Three operators – Dott, Lime and Tier – will each provide between 60 and 150 e-scooters in each of the boroughs.
The Metropolitan Police has also launched a large operation this summer to tackle violence in London, including robberies involving electric scooters noting that e-scooters were involved in 574 recorded crimes in London between 1 July 2020 and 30 April 2021, a figure the mayor suggested was under-reported. West Midlands Police have also announced a similar exercise.
Last week it was reported that an e-scooter rider died in Wolverhampton following a collision with a car, having suffered a fractured skull and punctured lungs. As a reminder, helmets are recommended, but not compulsory during the trials. It is also interesting to note that a few users caught drunk in charge of an e-scooter have had their driving bans moved to their main vehicle which may act as something of a deterrent.
Use of Transport Modes
We now have the data from the ONS up to and including 14 June 2021 which increasingly shows a return to something approaching normality on the roads, in terms of volumes at least. On a week day private car usage is up to around 92-95% of normal with commercial vehicles well over pre-Covid levels at around the 110% mark: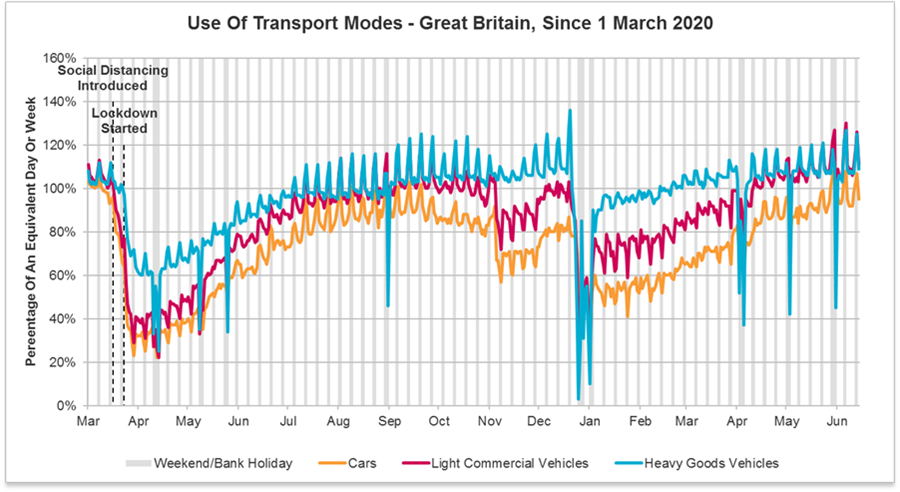 As we know there is a lag between increasing traffic volumes and increasing claims which is reflected in the Portal data further below. There is not necessarily a direct correlation in any event. Altered working habits are having an effect on rush hours, there are no nightclubs open yet which reduces late night driving/accidents and no large scale events like football matches. We have previously highlighted as well the reduction in new drivers on the roads. So there are a lot of other influencing factors still to come that will yet have an impact on claims volumes.
In terms of public transport usage, National Rail continues to creep up, now at around 50% of pre-Covid levels so there is much still to do for the rail industry to convince people to travel. In the capital, tube and bus usage is also rising slowly, now at around 40-45% and 60-65% respectively.
More out of interest than anything else, last year's cycling boom following doesn't seem to be repeated this year (perhaps people are trying out e-scooters instead!) as the following graph shows: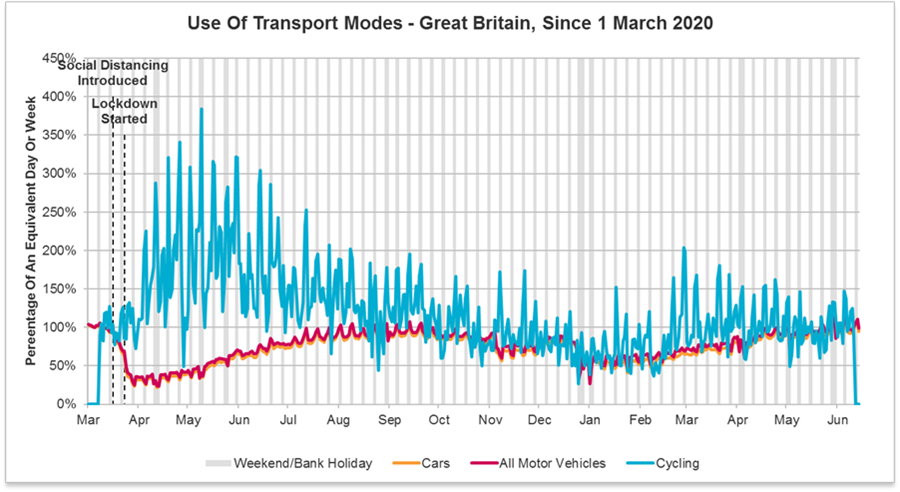 Footfall and Activity Levels
Data is now available up to 17 June 2021. Lockdown easing (and better weather) saw seated diner levels at 119% of the equivalent week in 2019, showing that diners have certainly regained their appetite for eating out. Capacity levels at some restaurants able to exploit outdoor space have no doubt risen, as venues opened up enhanced outdoor space during the earlier lockdown phase with indoor dining not allowed, yet maintaining the space when fully opening up later on.
Retail to 12 June showed footfall at 82% of the 2019 level, the second highest volume so far this year. Retail parks are faring much better than shopping centres and the high street, which has been a feature ever since the first restrictions were imposed.
The level of adults who travelled to work increased to 64% in the past seven days (to 13 June 2021). As a reference point, in May 2020 it was as low as 37%.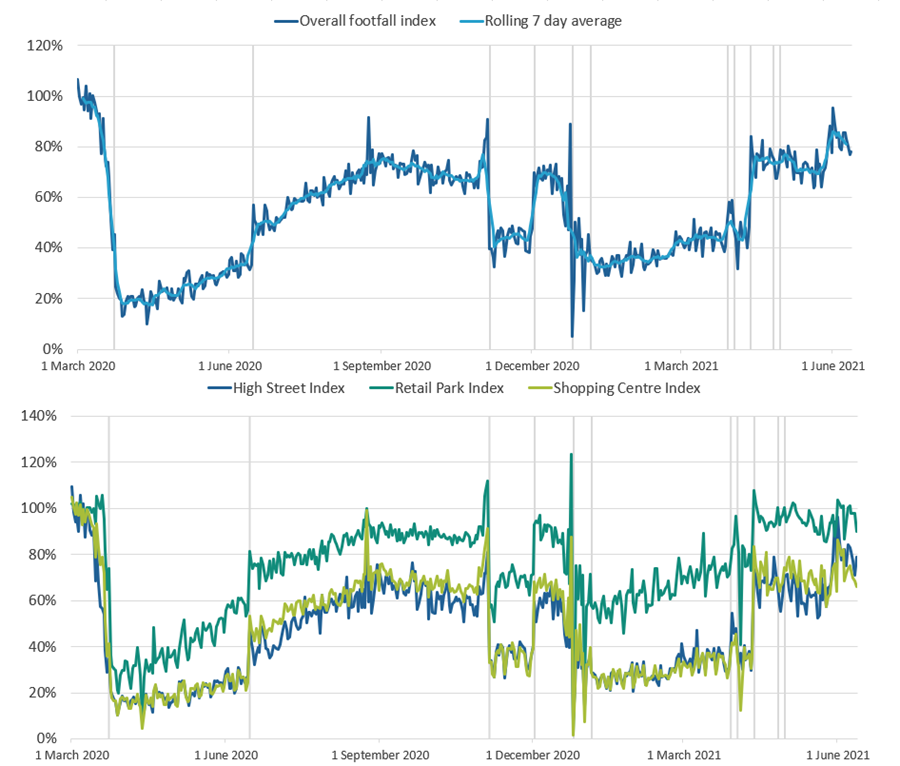 Civil Justice Statistics
We now have the statistics up to 23 May 2021. After some slight dips in early May, the civil workload has bounced back to around average where it has been for the last few months, albeit well below pre-Covid levels.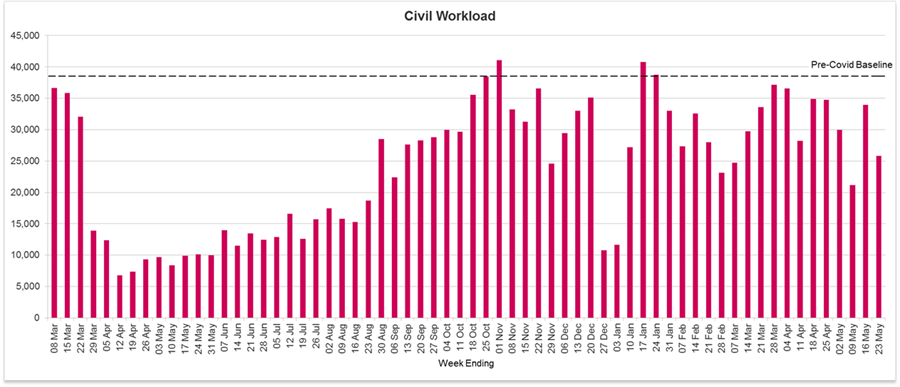 It is the same story with listed hearings which are hovering around the same point as they have been since November, save for the Christmas break: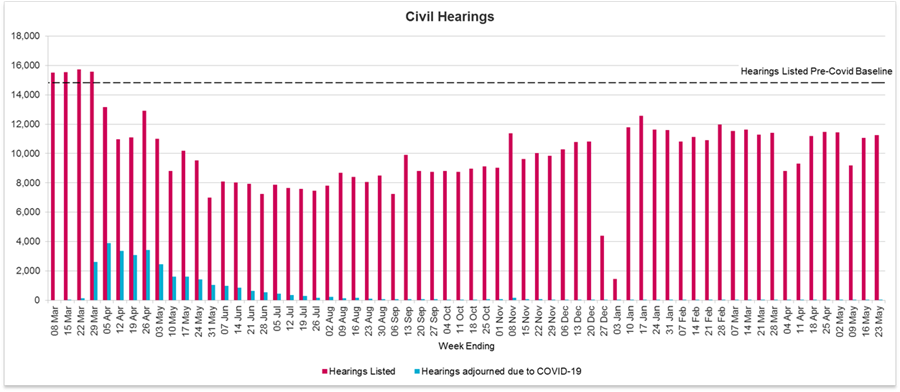 Issued personal injury claims have risen slightly in Q1 of 2021 but remain at a low level with less than 25,000 claims issued: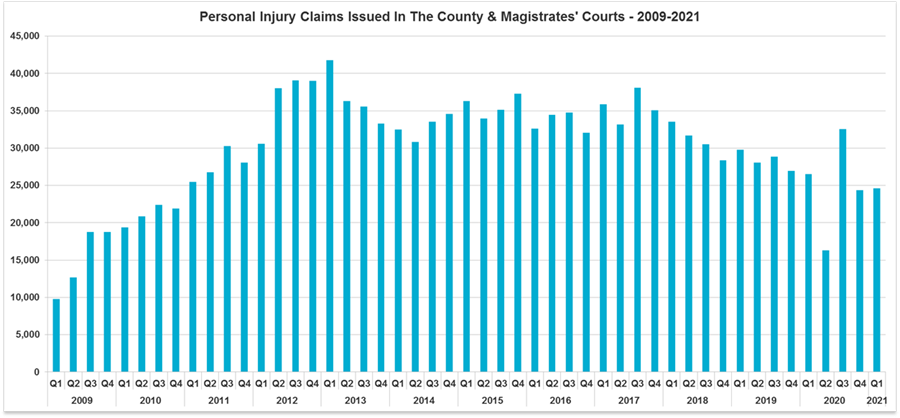 Q1 figures would suggest that we are on track for around 100,000 claims over the year, a slight rise on last year but still considerably lower than in the pre-Covid years: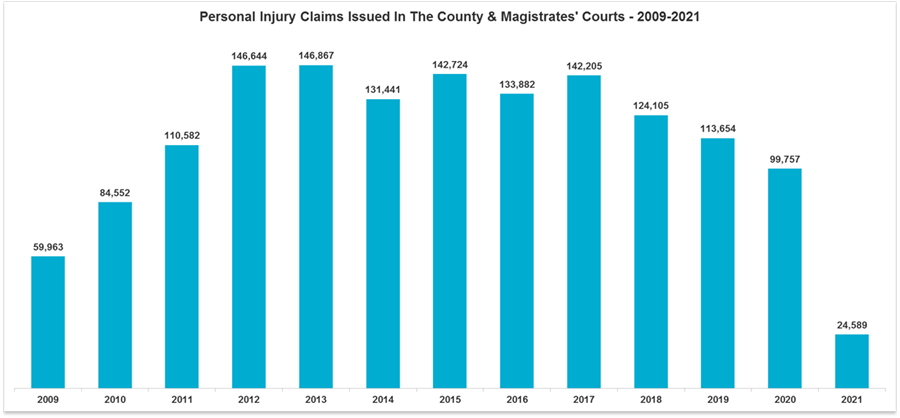 May 2021 Portal Statistics
RTA figures rose slightly, but the expected increase in EL/PL claims as businesses and social life returned has not, as yet, materialised. Whether numbers are rising for out-of-portal EL and PL claims is more difficult to assess, but we know that many firms in this area of law do avoid the portal for both value and complexity.
NOTE OF CAUTION – As we have mentioned in previous updates, recently the data released by Claims Portal has shown significant movements for the most recent month, particularly in RTA. For example, last month April RTA CNFs were reported as 31,614. In the latest figures that April figure increased by nearly 20% to 36,967. So please be aware when looking at the month on month trends that the figures for the most recent month could yet increase significantly.
New RTA Claims
New road traffic CNFs rose by 2.8% to 38,009, perhaps not as much as expected given the timeline with the OIC portal but as above, that figure may well yet increase for May. This figure represents a 66.3% increase on the previous year, but May 2020 saw the all-time low of new claims presented so a fairly low benchmark. Comparing with pre-Covid levels, in May 2019 57,895 CNFs were presented as opposed to 38,009 in 2021. The vast majority of the reduction will of course be due to the pandemic.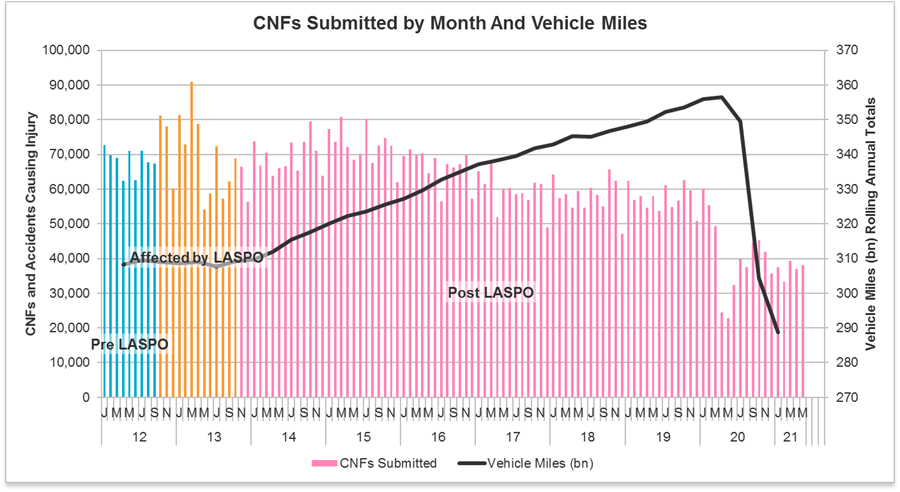 As expected, the cumulative figure has bounced back a little, to over 450,000 CNFs in the last 12 months: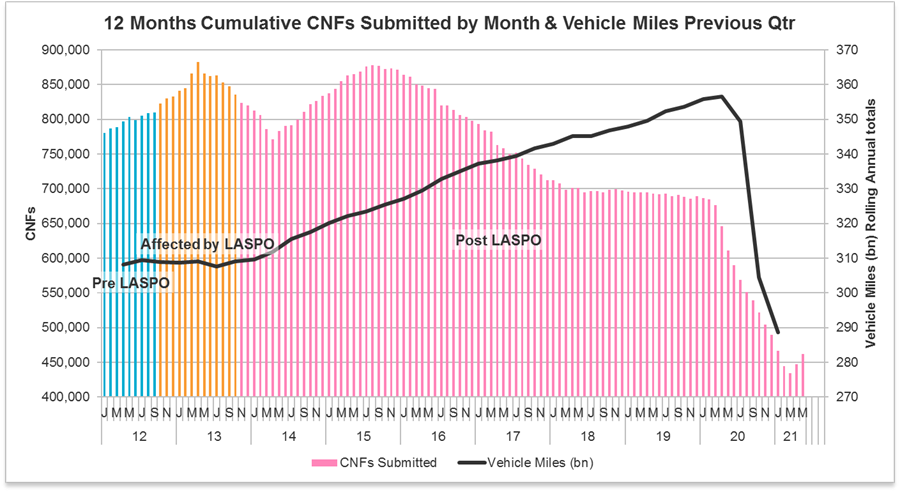 MedCo facts and figures
As a usual reference point, the latest statistics on searches for medical reports from the MedCo fact sheet as at 1 June are as follows:
21,000+ searches on the MedCo system in May resulting in the selection of an MRO
3,600+ searches resulting in the selection of a Direct Medical Expert (DME)
47% of DME selections were for GPs
46% of DME selections were for physiotherapists, a figure which has risen significantly since pre-Covid levels
New Casualty Cases
EL CNFs fell to 2,199 submissions, the lowest figure of the year so far and a drop of 5.6% on the previous month, although obviously significantly up on the same period last year. In May 2019, 3,720 new cases were submitted which is a better comparison.
There were 2,707 PL CNFs submitted, static on the previous month but 15.4% up on the prior year, unsurprisingly. There were 4,371 submissions in May 2019, by way of comparison: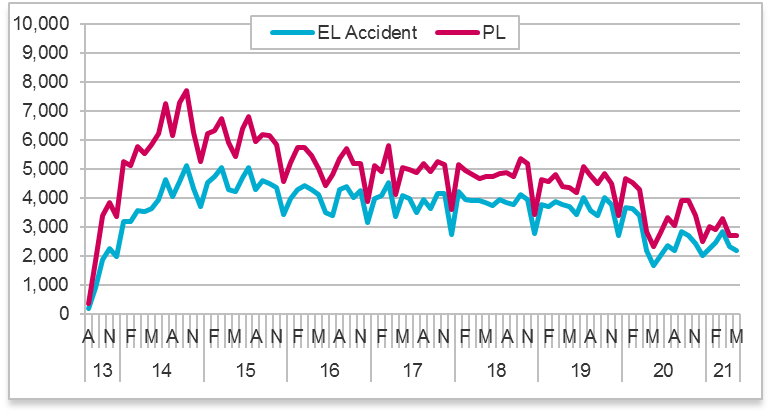 Cumulative figures have actually risen slightly, however, reflecting the very low numbers last April and May: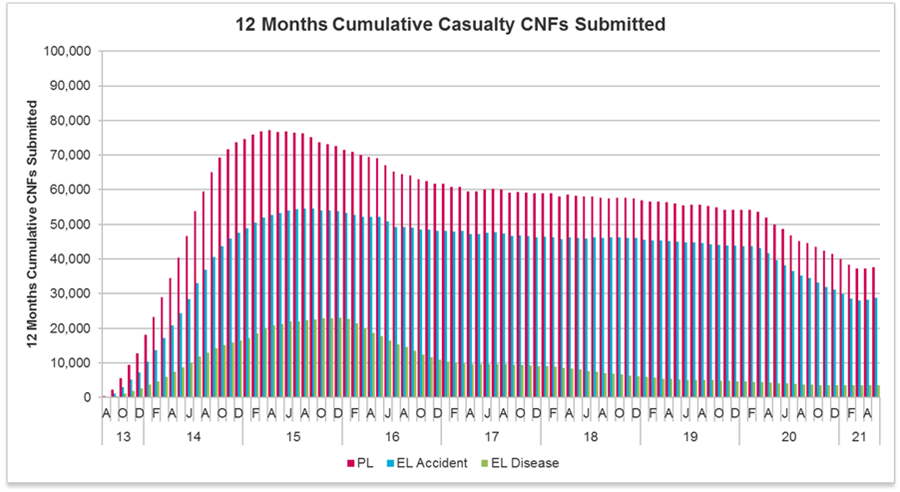 Court Packs and PSLA
New Court Proceedings Packs fell to 3,820, a decrease of 6.7% on the previous month in RTA, but PSLA remained stable at an average of £2,953 per claim settlement.
EL Court Packs dropped down to 40, one of the lowest levels we have seen including through the pandemic. This is likely due to a combination of fewer claims in the system and more claims dropping out. PSLA amounts reduced slightly on the previous two months but remained reasonably high at £4,775.
Court Packs in PL rose very slightly to 60, the highest number for a year. A milestone was reached in PSLA quantum with the average settlement topping £5,000 for the first time, hitting £5,076 or an 8.7% increase on the prior month. The one year increase is 14.53% so quite considerable, but bearing in mind a few large settlements in this area can skew the data.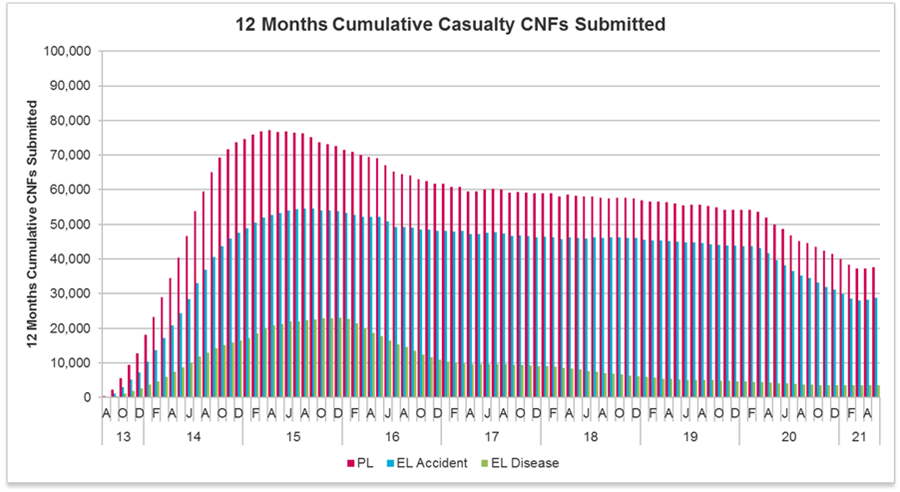 Retention
As always, the monthly figures vary widely, but the cumulative graph shows increased retention percentages across the board: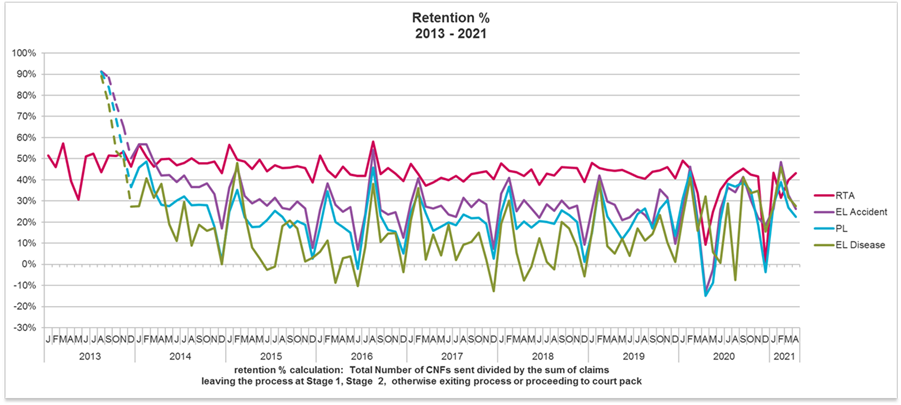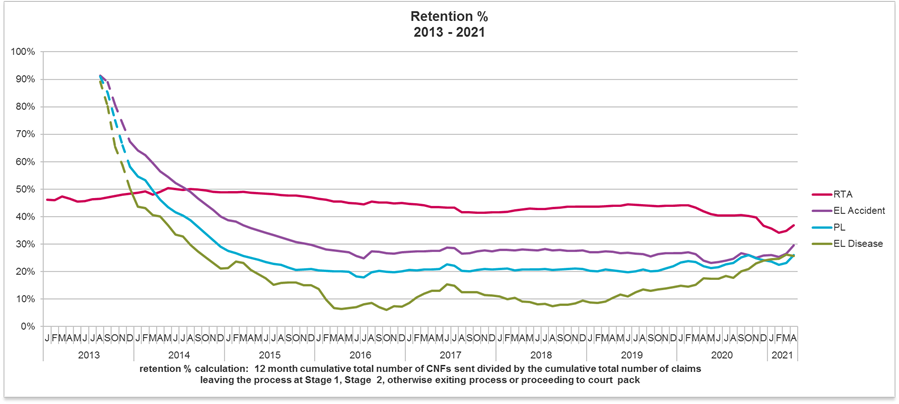 So in summary the increase in activity levels has not yet translated to new claims data. Next month will be interesting to see if that changes, and also to assess the comparison after the launch of the OIC portal and any data that may be produced. We expect numbers to be low as the market gets to grips with the new processes, but as always only time will tell.