The delayed March portal data is now with us so we can provide our usual monthly strategic update, albeit slightly later than normal. A lot has changed since the last update with infections continuing to fall, hospital numbers diminishing and deaths at their lowest level for quite some time. Looking at things from a claims perspective, the amount of road traffic has most definitely increased according to the data from the Department for Transport reviewed below.
Retail is now open again and has been for two weeks at the time of writing. Outdoor hospitality is booming with popular places booked up for weeks in advance, notwithstanding the great British weather. This will undoubtedly affect footfall, car usage and eventually, the number of RTA, EL and PL claims to follow. Additionally, there is now less than a month until the OIC service launches. Could there be something of a perfect storm ahead…?
Whiplash Reforms
The whiplash reforms are so close now you can almost smell them. The House of Lords debate on the whiplash regulations took place on 26 April where they passed their final hurdle. Although there was the inevitable lobbying ahead of the debate, with APIL suggesting that the tariff figures were "derisory and offensive", their Lordships agreed the motion, proposing the regulations. The regulations then went on to be approved by the Commons on 28 April. Interestingly, one of the main themes coming from the Lords that participated in the debate was concern around non whiplash injuries and the potential increase in damages there.
Ahead of the debate in the Lords, a written statement was given by the Parliamentary Under-Secretary of State for Justice, Lord Wolfson of Tredegar, that the increase in the Small Claims Track for all other types of personal injury claim, would be from £1,000 to £1,500. This was instead of the £2,000 that had been proposed previously. Further, the implementation of this measure would be deferred until April 2022, a delay of one year.
It seems unlikely to be a significant element of reform with no accompanying portal and one suspects it might simply mean that claims are inflated above the £1,500 level instead of £1,000. There may also be different rules for infants given that under the new RTA reforms the small claims threshold for infant claims has effectively been abandoned altogether.
The long awaited User Guide (pdf) was released very soon after the approval of the regulations on 29 April, and the MOJ have also made available further guidance and FAQs about whiplash reforms. They say that the document will be updated on a monthly basis until 31 July 2021.
Whilst casting no aspersions on the quality of the guide, at 64 pages you do wonder how many claimants are likely to see it and reach for the website of the nearest CMC/claimant solicitor.
The most eagerly anticipated part of the guide is the section on non-tariff injuries which has been expanded, highlighting that discounting for overlap between injuries was necessary and that it may take a Court of Appeal case to make a final decision on how to value the tariff and non-tariff injuries together.
The diagram below is the guide's attempt to indicate how a claimant should value an injury with minor cuts and abrasions on the legs, fully recovered within 10 days:

The guide refers to the Judicial College Guidelines and the above as a starting point. That language might not be helpful if an unrepresented claimant sees it as a lowest valuation to work up from.
The issues over additional injuries are inevitably going to end up in the Court of Appeal - which feels a very disappointing thing to say about reforms that have been at least six years in the making.
ALKS and Automated Cars
On 28 April the Department for Transport responded to the previous call for evidence and has now set out how vehicles fitted with Automated Lane Keeping System (ALKS) technology could legally be defined as self-driving, as long as they receive approval and there is no evidence to challenge the vehicle's ability to self-drive. Use would be limited to driving in a single lane, on a motorway in slow traffic, with a maximum speed of 37mph. In these conditions control could be given over to the Automated Lane Keeping System of enabled vehicles.
The announcement comes as a consultation on The Highway Code rules is launched to ensure the first wave of this technology is used safely and responsibly. This consultation will conclude on 28 May 2021.
The justification for allowing the use of ALKS technology is that this could reduce human error and congestion, however it raises serious concerns that the criteria for vehicles to be classed as automated are not met. Indeed the watering down of the original proposal could lead to further problems with the vehicles only allowed to operate at speeds of up to 37mph on a motorway. The biggest difficulty may well be the reaction time when drivers are expected to take back control in an emergency.
As we have reported previously, there is little doubt that the long term benefits of ALKS could be significant, but the false description as automated is likely to lull drivers into a false sense of security.
Cross-Border claims – hope, then disappointment
A few weeks ago it appeared likely that the UK would be able to re-join the Lugano Convention, easing difficulties caused by Brexit on cross-border actions and enforcement of judgments. Unfortunately at the time of going to press, objections have been made by various countries including France. It is notable that all the non-EU countries involved in the treaty, including Norway and Switzerland, voted in favour of the UK re-joining. The debate continues but with a clear sign of the politics involved.
Use of Transport Modes
We now have the data up to and including 26 April which takes into account the first few weeks of lockdown easing 'proper', with shops and restaurants back open. The numbers continue to recover as the below graph of the data shows: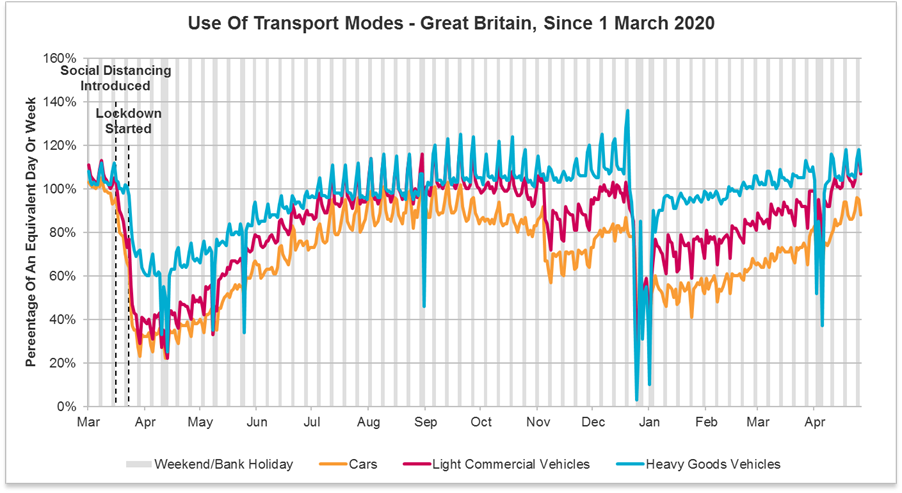 Taking traffic as a whole, levels were up to 93% of the level seen in the first week of February 2020 (the baseline level), with light/heavy commercial traffic at 107% and 108% respectively as at 26 April. Private car usage reached 90% on 23 April, showing that levels have not quite returned to normal yet but traffic levels are clearly rising. To compare the position at our last update 6 weeks ago, the combined ratio was at 78% compared to the 93% now. All levels are compared to the February 2020 baseline.
Interestingly, train and bus usage is also on the rise suggesting fears that people would not return as quickly to those types of public transport may be unfounded. In a recent Viewsbank poll, 50% of people who used to regularly use public transport said they were avoiding buses and trains for the immediate future and 10% said they would be avoiding them longer term. However it is still relatively early days to be drawing any long term conclusions.
Driving Tests backlog
In addition it is important to note that driving lessons and driving tests are finally back, after being on hold last year initially and then again since the 2nd lockdown in December. There is apparently a backlog of some 420,000 learner drivers waiting for tests, with some of those starting driving lessons then stopping over a year ago. Coupled with general rustiness on the roads as people return to driving, this could be a significant driver of claims frequency.
The DVSA has highlighted that to ease pressure on the log-jammed system, learners should only put in for their tests when they are confident of passing, with around half of first time attempts ending in failure. But might invigilators be under some pressure to pass applicants first time leading to less able drivers on the road? Insurers, certainly for a period, will likely see an increase in accidents involving those on driving lessons and recently qualified drivers. With newly qualified drivers being far more likely to be involved in a fatal accident claim (and with younger drivers more likely to drive late at night), we might well see an increase in claims severity as well as frequency.
Footfall
ONS statistics are up to date as of 29 April and can be accessed here - Coronavirus and the latest indicators for the UK economy and society.
Headline figures include the fact that overall retail footfall in the week to 24 April 2021 was at 80% of the equivalent week in 2019, a significant increase on last month's 37% due to shops re-opening for non-essential retail: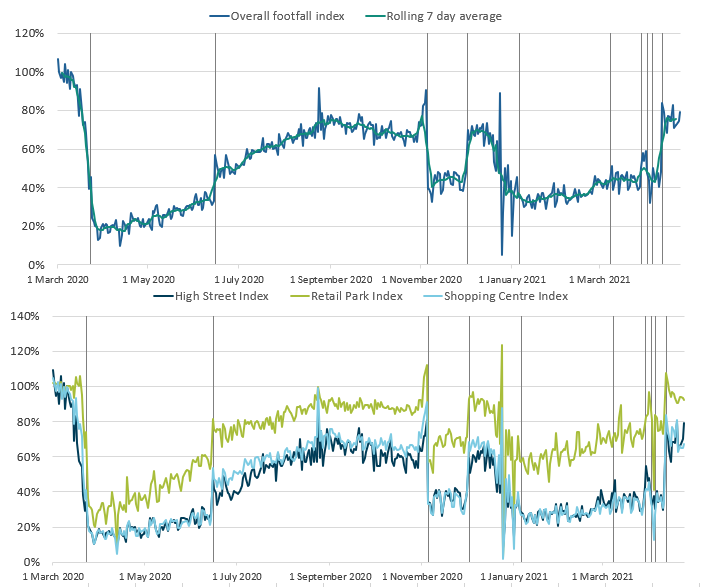 Interestingly, despite indoor dining not being allowed, estimates for UK seated diner reservations were at 62% of the level compared to the same week in 2019. This seems quite a high figure when taking into account the number of restaurants without outdoor spaces that have to wait until 17 May to open. There may be two factors at play here – multiple reservations seem commonplace these days (with or without cancellation to the chagrin of restaurant owners across the country). On the flip side, it also shows the ingenuity of hospitality owners in creating outdoor space and increasing capacity. But it could be a pointer to a much needed boom summer for the restaurant industry.
Civil Justice Statistics
We now have the court statistics up to 21 March 2021 which show the civil workload rising again after a slight drop off in February: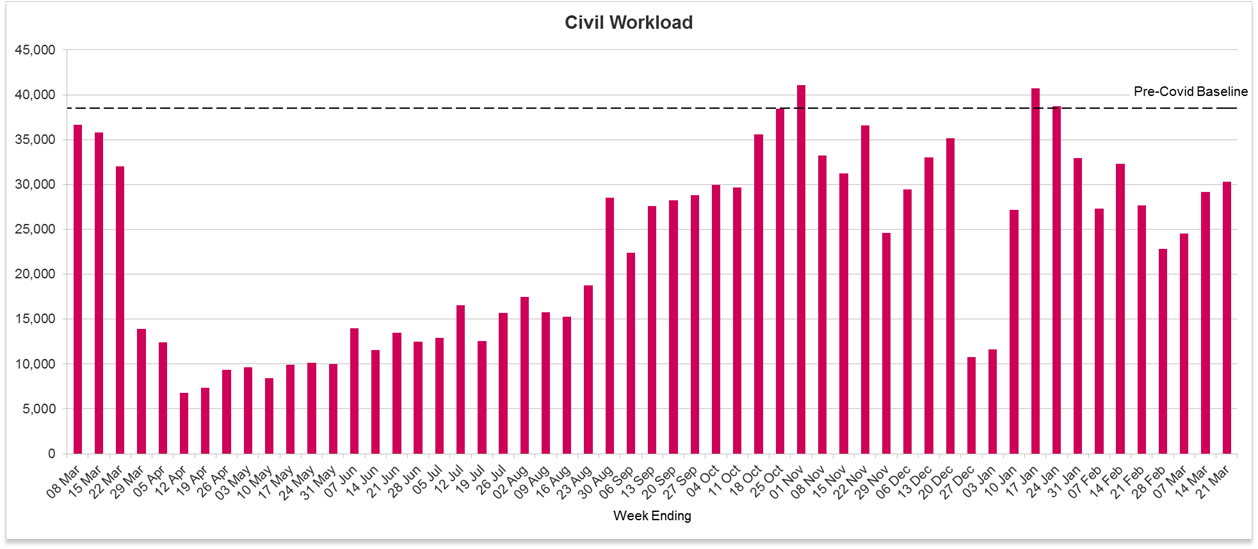 Hearings listed remain at around the same level they have been at since the turn of the year, at just below 12,000. Pre-Covid levels hovered around 15,000 cases. The reduction may be due to reduced litigation rates (and fewer claims in the system generally) and numbers may well remain lower on a permanent basis.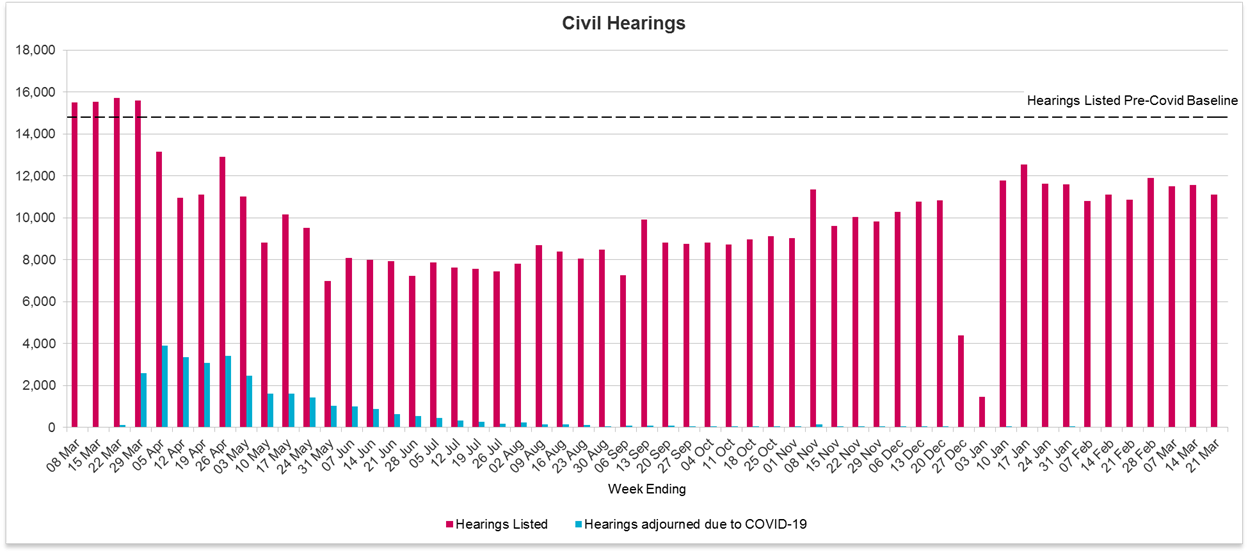 A look at the claims received by the courts may partially explain the reduction in hearings at the present time, particularly if we factor in the approximate 12 months it can take for an issued claim to reach hearing: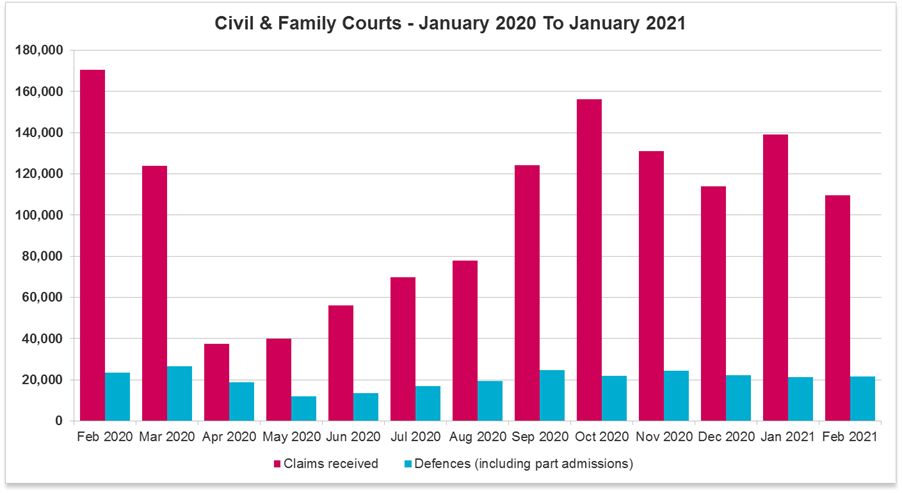 Whilst we are nowhere near recovered to pre-Covid levels, the major dip throughout April-August would potentially be cases reaching a hearing now and for the next six months.
March 2021 Portal Statistics
Claims volumes haven't increased since February but that's not particularly surprising given there were no changes in lockdown until 29 March. Next month we should see the effect of the lockdown lifting and also some year on year increases given April was the first full month affected by Covid restrictions.
New RTA Claims
New RTA claims fell by 2.8% in March to 31,614, which is in fact the lowest level since May 2020. Taken against the same point in 2020, the last month before lockdown affected figures, claims were 35.5% down.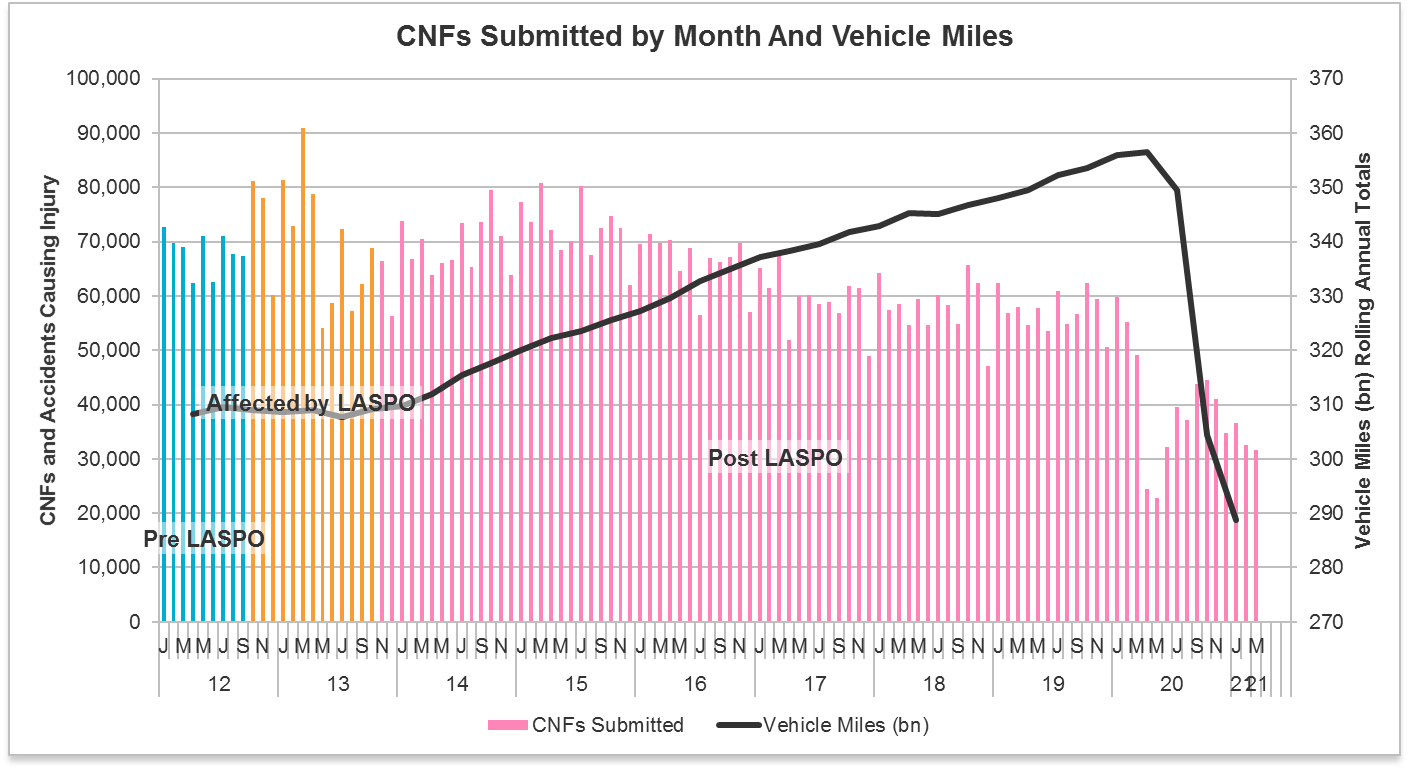 The cumulative figure for the 12 month period is now well below 450,000 at around 425,000. That is likely to be as low as it gets given the April CNF figure last year of 24,407.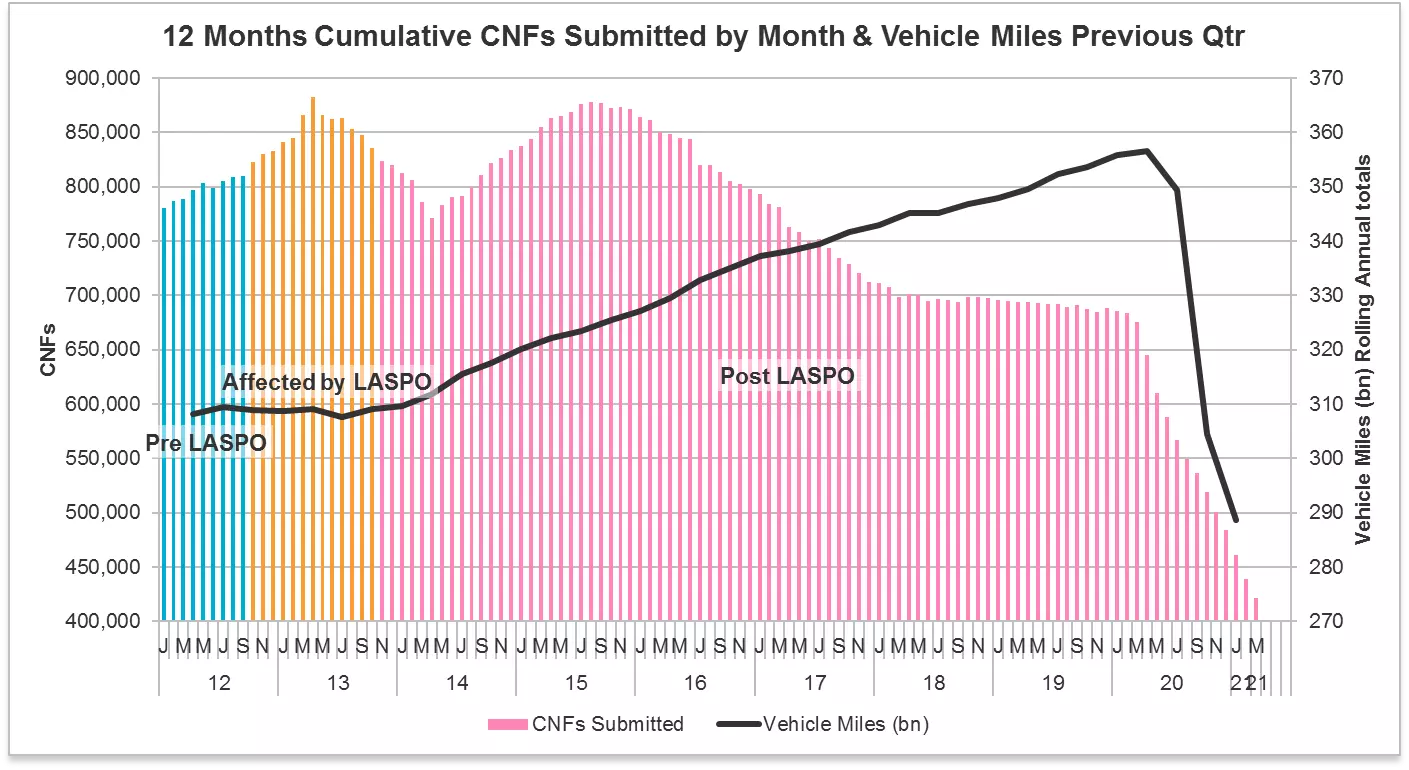 New Casualty Cases
We ought to flag that this month there is a significant discrepancy between the data on EL and PL claims and that provided by Claims Portal in previous months, particularly around the volume of new CNFs. We are in the process of clarifying this with Claims Portal, and in the meantime whilst we have reported in our normal format, we would suggest you treat this month's information insofar as it relates to EL/PL claims with significant caution.
EL cases rose by 12.8% with 2,276 cases being submitted to the portal. Taken against the same period in 2020 however, this was 33% down.
PL cases showed a significant rise, with 3,024 new CNFs a huge rise of 60.2% on the prior month. However that month itself was unusually low so we are perhaps just seeing a glitch in the data here rather than a trend: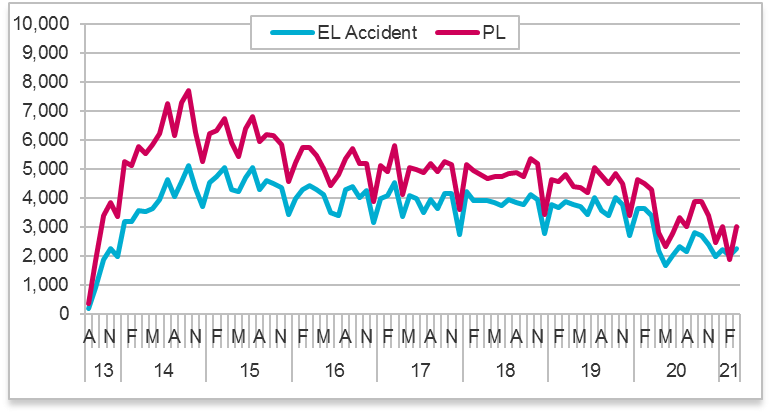 The announcement that the small claims limit will not rise for these types of cases until April 2022 and even then only to £1,500 may well attract practitioners from RTA as the market adjusts.
The cumulative numbers continue their decline similar to RTA, and are a better indicator than the monthly graph where the numbers can fluctuate quite significantly month to month: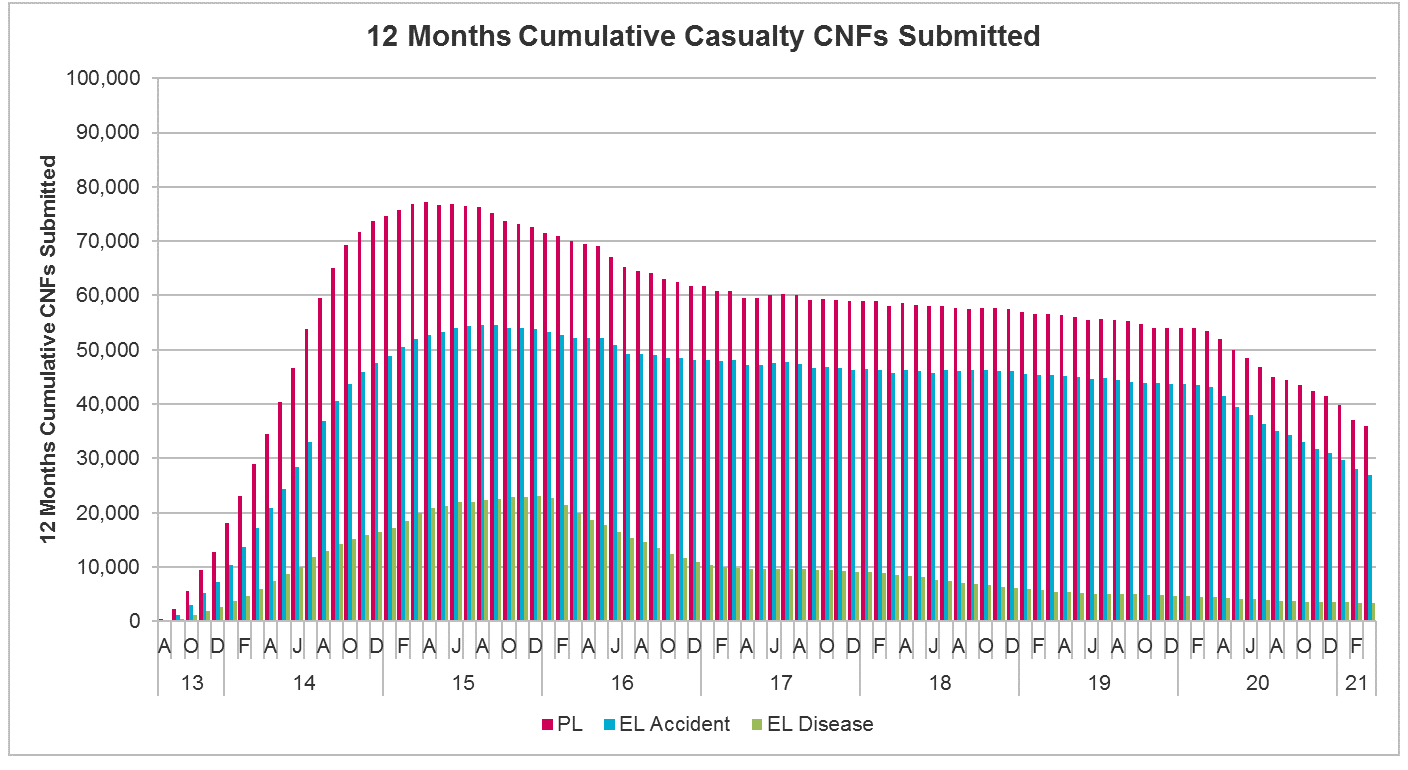 Court Packs and PSLA
The number of court packs rose quite considerably by 27.3% to 4,738, the highest number of court packs since July 2020. It is not immediately apparent what is driving that increase. PSLA rose very slightly by 1.3% to an average settlement of £2,926.
When taken against the £5,000 threshold for the new OIC process, one would think that the vast majority of claims will fit into the new system. Whether that turns out to be true we can only wait and see!
For EL accidents, there was an even more significant increase in court packs, albeit on very low volumes, increasing by 53.7% to 63. PSLA also rose by 3.7% to an average of £4,853.
PL saw a 7% rise in packs and a 6.4% rise in PSLA, rising to an average of £4,982.
Conversely for EL and PL accidents, the rise to £1,500 in the SCT limit will not see many claims limited to non-cost bearing status.
Retention
Again a mixed month for retention, with RTA rates continuing to drop and PL rising significantly but we would refer you to the caveats above regarding the data. The RTA reduction mathematically will be a combination of another low month for new CNFs coupled with a reasonably high month for court proceedings packs: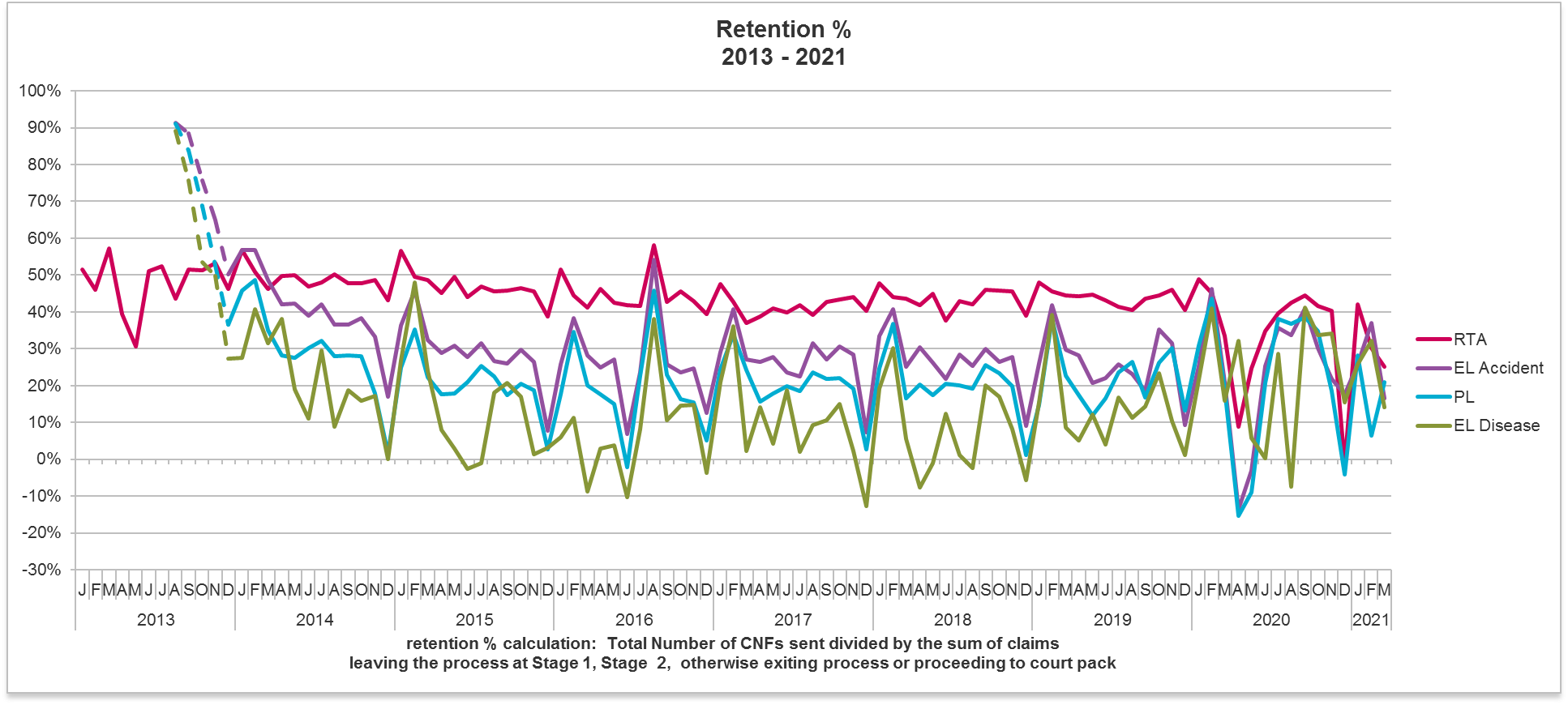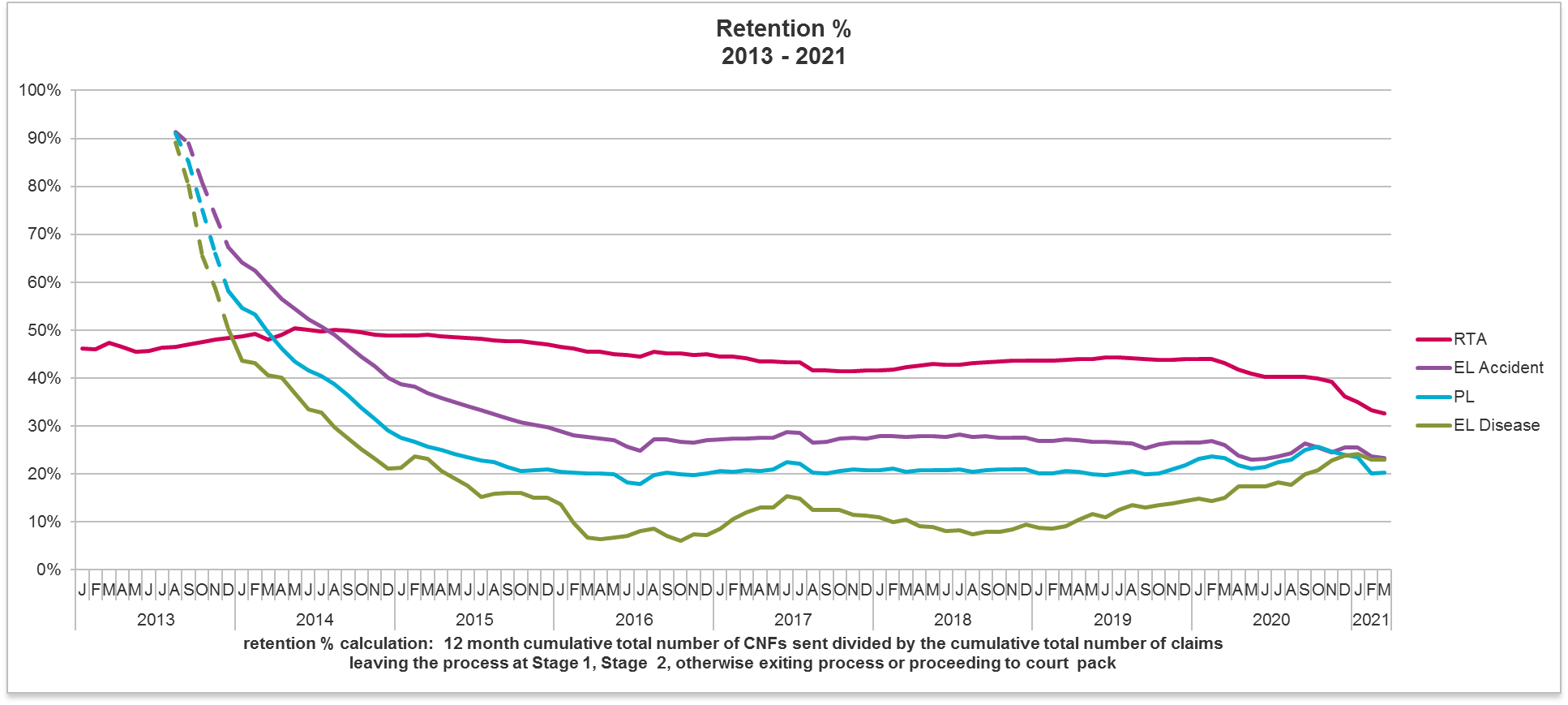 So, despite the increase in traffic and footfall now apparent, March was another fairly slow month in terms of the MOJ Portal. We are likely to see signs of increased volumes in the April data as that will take in the changes from both 29 March and 12 April 2021 when the lockdown easing started in earnest.