The delay can be partly explained by other pressures on a Government department with a cut-back budget, but with the Civil Liability Act now in place resource has now been found to tackle the issues raised in Jackson's final piece of work before his retirement. The MoJ themselves refer to the need first to have dealt with first the Post Implementation Review of LASPO as they did at the end of last year.
The consultation is open until 6 June and the proposals affect most claims dealt with by insurers which are worth up to £100,000. The issues raised by the consultation in what is essentially a plan to introduce the Jackson proposals with only minimal change are largely as expected, but it is appropriate for insurers to provide a response to the consultation on a key issue where significant sums are at stake in cases at quantum levels which will include the vast majority of claims.
Summary
Assuming no significant change in the political landscape at Westminster over the next couple of years, it seems likely that the vision of a wide extension of FRC as drawn up by Jackson and now supported by Government will be in place relatively soon, perhaps in late 2020. The bandwagon towards more and more fixed costs continues. New rules of court will be needed but time will not need to be found to pass primary legislation.
The MoJ largely accept Jackson's 2017 report in rolling out FRC to the remaining claims worth up to £25,000 and indeed to most cases up to £100,000, and the use of bands of complexity to determine the appropriate level of FRC for each. They accept a future potential extension to higher value claims perhaps to £250,000, but also need to control disbursements in addition which are currently excluded from this process.
The key issue for insurers and others is whether Jackson has pitched his FRC figures at the right numbers. There are in fact signs that perhaps in a desire to compromise he has been too generous at certain levels. These include band 4 for claims worth up to £25,000 where the proposed FRC greatly exceed the negotiated level of FRC for NIHL claims, as well as bands 2-4 for claims up to £100,000 which are suggested at levels much higher than Jackson's view in 2016.
Jackson says that he has factored in adjustments into the FRC figures on account of process savings due to the existence of fixed costs, as well as efficiency savings based on better streamlined claims processes though it is unclear as to the extent to which he has done so.
What does seem clear is that it could be said that insufficient downward adjustment has been made for increased efficiency of business processes as the claimant sector has widely demonstrated over recent years and which will inevitably continue. It could be said that this should be encouraged by making further appropriate adjustments.
Next steps
We can expect a government response to the consultation which will then largely implement the current proposals. There is though an inconsistent position taken in the consultation itself as to when that response will come: in fact 3 different dates are given. At the start of the consultation document itself we are told the response will be due "within three months of the consultation ending", on page 9 it is said the response will follow as is often said by Government - "in due course", while on page 41 this appears: "The government will publish a response to this consultation, and set out the way forward later in the year".
There will clearly be a need to have new rules of court and the MoJ say they will start engagement with the Rule Committee "at an early stage" to discuss those changes.
If a response to the consultation emerges later this year then it may be realistic to expect implementation of these plans in around October 2020.
Jackson's report
This was delivered on time at the end of July 2017 and we reviewed it in detail here. As the current proposals essentially adopt Jackson's report it is worth looking back to that time via the previous link setting out the proposals to extend FRC.
At that time we expected Government acceptance of the reasoned set of proposals from Sir Rupert and so it has proved. In mid-2017 we seemed to be looking ahead to implementation in October 2018 so 2 years of time have been lost.
As a reminder, the report suggested three main reforms: filling the gaps in the use of FRC in claims up to £25,000 where in fact many claims were already subject to fixed costs; accepting the proposals of the Civil Justice Council Working Group on NIHL claims as to FRC and new processes for deafness claims; and proposing a new intermediate track so that FRC could be introduced for most cases worth up to £100,000.
The rationale for more FRC
More fixed costs are good in principle say the MoJ. "It is sometimes suggested that FRC favour defendants at the expense of claimants. But it is generally just as much in claimants' interests to control the costs that they might have to pay."
The MoJ also quote Jackson himself with approval: "I accept that if litigation becomes uneconomic for lawyers, so that they cease to practice, there is a denial of justice. But, for the most part, achieving proportionate costs and promoting access to justice go hand in hand. If costs on both sides are proportionate, then (i) there is more access to justice and (ii) such funding as the parties possess is more likely to be sufficient."
It was fully anticipated that Government would take their current line as their view on the principles involved are the same as Jackson's. The move towards more FRC is a bandwagon that cannot be stopped.
For insurers their interests in accurate reserving coincide with those of other litigants and are recognised as an advantage from FRC extension: the key as seen by the MoJ is for parties to a claim to be able to make "an informed assessment of the likely costs" when working out their case strategy.
The MoJ position
They accept Jackson's proposals essentially as presented with one change that while at first glance may appear significant is in fact is unlikely to be.
There is no change to the level and type of claim intended to be included in the extended FRC regime, which is to be most claims up to £100,000, but instead of creating a new intermediate track to handle cases in the £25,000 - £100,000 range, the MoJ intend to extend the fast track up from £25,000 to a new level of £100,000 so as to include these cases. They say it would be costly and complex to create a new intermediate track.
In fact Jackson himself had considered doing the same as an alternative to creating a new additional track before deciding it would be simpler to have a new track. The issue as to whether to proceed as the MoJ propose is one of the matters raised for responses in the consultation.
In reality we see the position between the two options as finely balanced but the difference as largely insignificant. Either way the CPR will need to be revised.
If there is to be a new track then new rules for that track will be required. If the fast track is extended then Parts 26 and 28 will need revision. Certain current provisions for the fast track as set out below will need to be changed: that the track is appropriate for cases with a trial length of up to 1 day; that trial is expected to be within 30 weeks of the CMC; and that expert evidence is limited to 2 per party in different fields of expertise.
We believe that it is the extension of FRC to these cases rather than the name of the track that they are allocated to which is important.
The MoJ accept as expected Jackson's point that the 'one-size fits all' approach where all types of claim are treated the same in terms of the level of FRC does not apply. They propose to treat the different types of case in the same way as Jackson had proposed.
The costs figures being proposed
If more FRC are accepted in principle as seems inevitable, then the key point is the actual level of FRC in terms of the amount of costs allowed as recoverable between the parties. This point is fundamental to the reform itself and also to the strategic position taken by insurers and others in relation to this proposed reform.
In outline form, the government with only very minor tweaks accept fully the figures proposed by Jackson in his report. They believe the figures "have been devised with appropriate rigour" having been based substantially on data from a firm of solicitors and costs lawyers who claimed a 10% share of the market, which were then analysed by Professor Fenn, and where the outputs were reviewed by a team of 14 assessors with a "breath of views and experience".
The Jackson report will be nearly 2 years old by the time the consultation closes. Some of Jackson's figures had been uprated for inflation by 4% to represent the 4 years which by the date of the report had passed since some of the existing FRC were set, but the consultation does not address inflation since the date of the Jackson report though the MoJ may consider no further increase can be justified.
We will consider below the potential use of those figures when compared to current levels of recoverable costs being paid by insurers and other litigants as that remains the litmus test of these reforms.
FRC for cases in the current fast track worth up to £25,000
The MoJ accept the recommendation that on the fast track claims should be divided into 4 bands of increasing levels of complexity as follows:
Band 1 - RTA non-injury claims such as bent metal or vehicle damage only; defended debt claims
Band 2 - RTA injury claims which fall within the RTA low value protocol; holiday sickness claims
Band 3 - EL accident claims; PL claims; RTA injury claims which fall outside the low value protocol; housing disrepair claims; other money claims
Band 4 – EL disease claims except NIHL (which are dealt with separately); professional negligence claims; property claims; complex housing disrepair claims; other claims at the top end of the fast track
We deal separately later in this briefing with FRC in NIHL claims.
The actual proposed FRC are set out in this grid: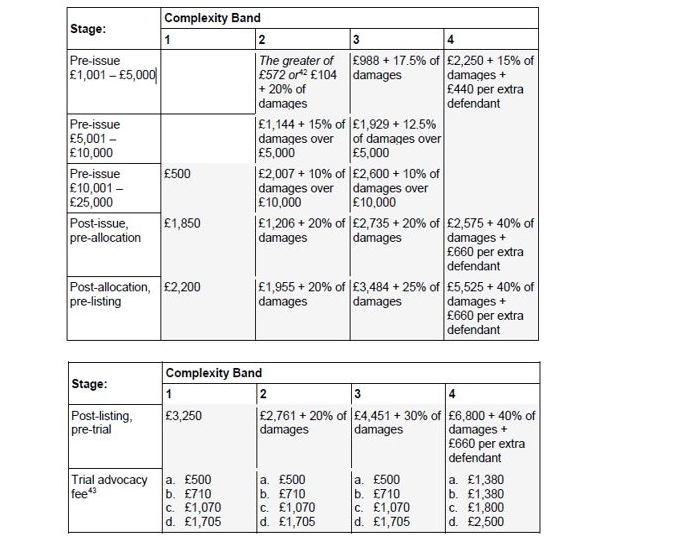 All of the above figures are cumulative and cover all case stages up to that point, with the exception of the trial advocacy fees which need to be added if the case gets that far. As to the four categories of those advocacy fees, a. is for claims where damages of up to £3,000 are awarded; b. for claims £3,001-£10,000; c. for claims £10,001-£15,000 and d. £15,001-£25,000.
Footnote 42 in the table above highlights the only adjustment from Jackson's report where the words "The greater of £572 or" have been added with the figure in question taken from the current FRC contained in the CPR and uprated for inflation for reasons of consistency.

To compare current costs with these new FRC we can take the example of claims settling pre-litigation.
Current FRCs for 4 types of injury claim which settles for an assumed damages figure of £25,000 are as follows:
RTA £3,430
PL - £3,870
EL accident - £4,000
EL disease – hourly rate costs


Taking the same cases settling for £25,000 pre-litigation then the costs on the basis of the Jackson's figures (which the MoJ propose to accept) would be:
RTA - £3,507
EL accident/PL - £4,100
EL disease (excluding NIHL) - £6,000

So the figures essentially take the existing level of FRCs for RTA and EL accident claims and uprate them for inflation over the 4 years since their introduction through to the date of the report: 2017. With RTA and EL there is an increase of between 2.2% and 2.5%, while for PL the increase is 5.9%, so as to create equality with EL accident as is the new approach.
We see that FRC for EL disease excluding deafness are proposed to be at a level 46% above EL accident and PL. While it should be recognised that EL disease is only one example of a band 4 claim, the differential between this type of claim and accident claims (and therefore between band 4 claims and the lower band claims) looks high.
The same conclusion can be reached when comparing the EL disease excluding NIHL claims with the FRC level which would apply to NIHL claims themselves. As we will see when looking at NIHL claims below, depending on factors such as whether liability is admitted, the number of defendants and whether draft proceedings are prepared, the FRC are between £2,500 and £5,000. Taking a mid-point of £3,750 demonstrates that the EL disease figure given above of £6,000 indeed looks too generous.
So in summary, the MoJ follow Jackson in proposing to fill the gaps in FRCs in claims under £25,000 by taking the current FRCs used both for RTA injury (essentially band 2 claims) and for EL accident and PL claims (band 3 claims) which drop out of the portal, uprating them marginally, and then scaling them downwards for bent metal and other more straightforward claims (band 1 claims), and upwards for EL disease, professional indemnity and property claims (band 4 claims).
Is this a radical enough approach where efficiencies in business processes will have delivered better and smoother handling of these claims since the existing FRC were set in 2013? This seems especially true where as we have seen following negotiations under the auspices of the CJC lower FRC were agreed for NIHL claims than those currently being proposed for many less complex types of claim.
Jackson did not address the question of what costs to allow where multiple claims are made from the same incident. Additional claimants could arise out of the same factual situation with gastric illness claims or from an RTA for example. Where the same lawyer is used the proposal is that FRC for claimants after the principal claimant should be set at 10% of the main FRC figure. While a conservative figure this reflects the fact that much of the work will be duplicated.
The government propose to trim the Jackson recommendation of allowing recovery of certain counsel's fees in addition to the set level of FRC in sub-£25,000 cases. He had suggested allowing on top of FRC an extra £500 for the drafting of a defence and £1,000 for an advice or conference where the work was done by counsel or another 'specialist lawyer'. Subject to consultation the MoJ agree with this recommendation but limit this to only apply to band 4 cases and NIHL claims where there could be more complexity.
FRC for cases in the proposed extended fast track worth up to £100,000
Again the MoJ largely accept the Jackson intention to have FRC for these cases (with certain limited exceptions which are thought to be the most complex cases within this value band) together with 4 case bands of increasing complexity of claim as set out below though in view of the closeness of the actual FRC figures as well as presumably the actual designations of suitable cases they ask in the consultation whether bands 2 and 3 should be merged.
The bands are these:
Band 1 – quantum only injury claims; debt claims
Band 2 – with band 3, this is to be one of the 'normal' bands, while suitable for the more straightforward cases including injury claims where liability and quantum are in dispute
Band 3 – as with band 2 this is the other 'normal' band, while suitable for the more complex cases
Band 4 – the most complex claims where trial is likely to last 3 days where there are serious issues of fact/law including injury cases where there are serious issues on breach, causation and quantum

The proposed FRC are as Jackson suggested and are set out on this grid: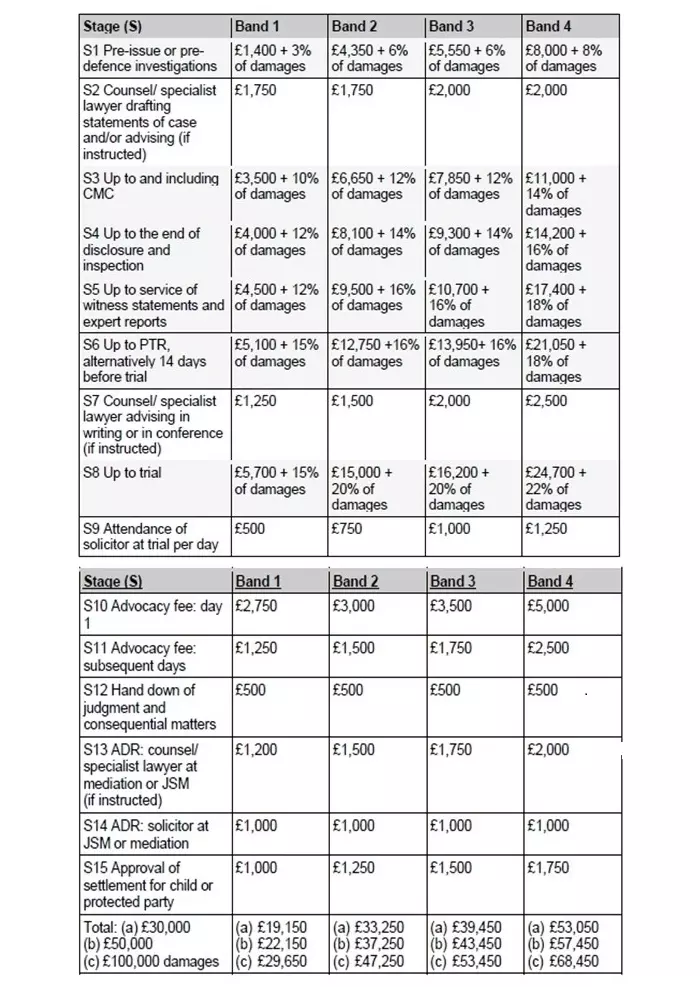 We should remember that unlike the grid of FRC for cases worth up to £25,000, the grid above is a hybrid. It follows a pattern of the shaded boxes being cumulative figures for cases up to that point, while unshaded boxes are separate sums to be added if appropriate.
As to how the FRC would look for a pre-litigation settlement, if we take a claim which settled for £50,000 and so halfway to the maximum value the new FRC would be:
Band 1 - £2,900
Band 2 - £7,350
Band 3 - £8,550
Band 4 - £12,000


There are of course no existing FRC to compare these figures to as we have done above with sub-£25,000 claims but in an earlier paper written in January 2016 Sir Rupert proposed FRC of £3,250 for a pre-action settlement worth £25,000-50,000, and FRC of £5,250 for one worth £50,000-£100,000.
So at £50,000 the new proposed FRC figure for a band 1 claim is less than both the alternative earlier figures of £3,250 or £5,250 but all other bands 2-4 are well above both of the previously proposed figures.
In other words it is important to note that there has been a substantial upward revision of the intended level of FRC for cases sitting in bands 2, 3 and 4 from Jackson's initial view. We would ask again as we did with sub-£25,000 whether taking into account this factor alongside increasing efficiency of operation the currently proposed level of FRC for £25,000 - £100,000 are too high.
Jackson asked himself in his report whether he was being more generous with the proposed level of FRCs than the evidence would permit. He answered that he was at least in relation to band 4 claims (he was for bands 2 and 3 as well), but is satisfied with the result nevertheless as the outcome figures meet the assessment of himself and his assessors as to what is reasonable for that type of claim. This would be open to challenge in a consultation response.
NIHL claims
Jackson had seen what was then the unpublished final report of the Civil Justice Council Working Party on Fixed Costs in Noise Induced Hearing Loss Claims when preparing his own report but not the final grid of FRC which was included in the CJC report and which is replicated in the current MoJ consultation and is set out here: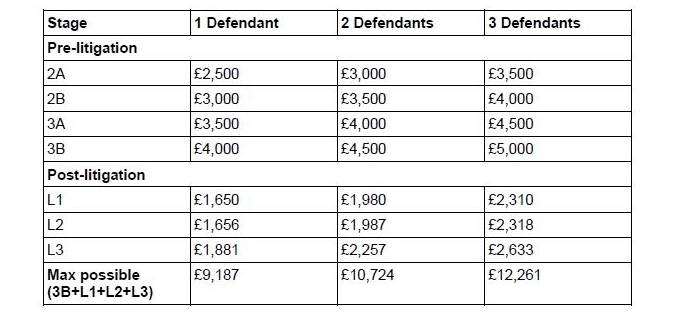 The grid seems complex and needs some explanation though the reference to the number of defendants between 1 and 3 is clear enough. Indeed this grid more than the others would benefit from being set out more logically.
As to the stages 1-3 pre-litigation and L1-3 post litigation the FRC position is as follows:
Pre-litigation stage 1 covers work up to sending a letter of claim. No specific costs figure is given as cases would not settle at that stage: instead the stage 1 work is included within the amounts allowed for stages 2 and 3.
Stage 2 applies where liability is admitted, stage 3 when liability is not admitted, and the costs are for the work done at those stages including stage 1. There is then a separate designation A or B, with B being £500 higher than A because B includes the preparation of papers prior to starting court proceedings.
As to the FRC at the three post-litigation stages L1-L3, you then add to stage 2 or 3 pre-litigation costs the FRC for each of the stages the case passes through post-litigation. As to those stages:
L1 is for the stage after issue of proceedings up to allocation
L2 is for after allocation up to listing
L3 applies between listing and trial
In addition a brief fee for counsel or 'specialist lawyer' for representation at trial in accordance with the band 4 allowance for cases of up to £25,000 of £1,380 would be added. As would FRC of £1,280 for restoring a company to the register.
Exclusions from NIHL include:
Cases where there are more than 3 defendants
Cases allocated to the Multi-Track
Cases where the defence alleges the hearing loss is de minimis or seeks further audiology or a medical examination
Test cases
Single defendant cases where the claimant elects to use the EL disease portal in which case for a settlement within the portal the existing FRC would apply, or if litigated after dropping out the standard FRC for claims worth up to £25,000 would apply
We have compared above this level of FRC with those proposed for other claims worth up to £25,000.
The consultation includes seeking views on the proposed new claims process negotiated through the CJC and on the use of preliminary trials such as on the issue of limitation the use of which is intended to be more tightly controlled.
Part 36 and unreasonable conduct
Sir Rupert considered how to deal with the issue shown up by the Court of Appeal's decision in Broadhurst v Tan as to what level of costs claimants should recover where they beat their own Part 36 offer at trial. It will be recalled it was decided that in such a case where FRC otherwise applied, the claimant should be able through indemnity costs to switch to being paid on an hourly rate basis from the date when the offer should have been accepted.

The MoJ agree with his recommendation that instead of indemnity costs, the claimant should have an enhancement of FRC. Jackson had suggested this was 30-40%. The MoJ consult on their proposal of taking the mid-point of a 35% increase on FRC.
The Government also agree with Jackson as to the solution to the question of what should be done in the case of unreasonable behaviour by one party in an FRC case. A greater sanction is thought to be needed in this situation when compared to the Part 36 position.
They are consulting on alternative solutions of a potentially unlimited percentage increase of FRC, indemnity costs or some other alternative solution.
Impact Assessment
The headline points from the Impact Assessment published with the consultation attempting to demonstrate the impact of the potential reforms include anticipation of:
A reduction in overall terms in the level of costs per case which will benefit paying parties
Claims settling more quickly as less time and resource will be spent arguing costs
This will enable lawyers to take on more cases and to maintain current profit margins
The reforms might be expected to generate business process efficiencies
The MoJ assume no reduction in the number of claims made nor in the number of those entering litigation, that claims outcomes will be unchanged, and those acting for claimants will set their fees in terms of charging their clients at the level of the FRC.
But in terms of monetising the overall package the MoJ say that this cannot be done due to data limitations.
As to particular parts of the proposed new FRC package, the MoJ compare the new figures where they can with data from the firm of solicitors and costs lawyers whose data has been used in the exercise, but the comparison is distinctly partial as a comparison can be made only in limited circumstances due to the way the historic data has been collected.
In the case of cases worth up to £25,000, no comparison is needed for bands 2 and 3 as they are an uprated version of current FRC. In the case of bands 1 and 4, the MoJ say that the proposed levels of FRC are on average lower than the comparison data.
As to cases worth up to £100,000, the data can be compared only in bands 2 and 3 and then only at 4 particular case stages. The position is mixed: some new figures are lower than prior data, some are higher.
As to volumes of additional cases brought within FRC, the MoJ estimate the proposals will add 17,000 cases worth up to £25,000 and another 11,000 cases worth up to £100,000. They believe that solicitors dealing with these cases would no longer need to keep papers relevant to assessment of costs as FRC will apply instead though this assumes that FRC will apply in all circumstances to those claims.
The fundamental point – the level of proposed FRC
The data behind the proposed levels of FRC for claims up to £25,000 as well as those up to £100,000 has been mentioned earlier. Are however the proposed new FRC levels too high?
We have made the point that when the proposed FRC for claims up to £25,000 are compared to the FRC for NIHL claims which come from an entirely separate source having been negotiated between the two sides of industry, that the new FRC for claims worth up to £25,000 look high in comparison.
Band 4 FRC for cases worth up to £25,000 also look high when compared to those for bands 2 and 3 which are largely based on current FRC.

As to claims worth up to £250,000, the FRC proposed for claims in bands 2-4 also look high and are above Jackson's earlier suggested levels, sometimes substantially so.
Looking back to the Jackson final report which identified the potential level of FRC we see the use of the various sets of data submitted to the judge but principally those from the firm of solicitors/costs lawyers as well as costs budgets filed in December 2016/January 2017. In addition Jackson says he used his own views and those of his assessors as to what was the appropriate level of FRC.

He was clearly looking to produce a consensual report that might be accepted across the board, saying overtly that he was seeking to balance competing interests. What has not though happened with Jackson's figures is the degree of challenge and counter-argument that was no doubt seen with the NIHL FRC emerging from the CJC process.

When comparing the appropriate level of new FRC with cases where costs have already been incurred he spoke of expecting going forward both process savings because costs would now be fixed and did not need to be dwelt over, as well as efficiency savings from streamlined litigation and handling processes. It is unclear as to the extent to which these downward adjustments have in fact been made though in the proposed FRC levels.

In relation to FRC for band 4 of claims up to £100,000 Jackson says that the level is above what could be derived statistically from the data, but fitted with his view and that of his assessors as to a reasonable level of costs. The lack of objective data supports the comment we made earlier about these costs looking high.


No account however is taken in the Impact Assessment nor in Jackson's FRC levels now supported by Government of increased efficiency of refined handling process and greater use of technology which has been widespread in the industry over recent years and which will inevitably continue. That is despite the Impact Assessment referring to the expectation of business process efficiencies.


FRC have been reduced in low value RTA claims over recent years and it may be thought surprising that reductions from average costs calculated on the basis of earlier claims processes are not yet suggested on this basis in those FRC now being consulted upon. It might be thought that a downward adjustment from the historic data would be justified on this basis.
Issues for the future
Various matters are left for another day.

One is the question of disbursements which are not included in the exercise. The proposed extension of FRC relates to the costs of legal work only and includes both solicitors and counsel. In the same way as the costs of medical evidence as well as certain other items are fixed in particular types of low value claim, it would be logical within an aim of extending FRC to the fixing of the overall cost of bringing or defending a claim to include disbursements in the future. Until then a perspective on the costs involved in any case will be partial rather than complete.
The issues which the Government do say they intend to return to for further consideration in the future are extensions of FRC to include:
higher value claims: it will be recalled that Jackson had initially proposed £250,000 as the appropriate level
Part 8 claims
costs incurred early in the case and before the first CCMC in cases where FRC do not apply so costs budgeting is being used
The first step though is to consider a consultation response by 6 June. Insurers will wish to access their own data as to current levels of claimant costs being paid and to make a comparison with the proposed levels of new FRC.
While claimants may take a different view insurers may support the proposals in principle though want to criticise the level of FRC where they appear too high both for claims worth up to £25,000 and those with a value up to £100,000. They may also wish to highlight the lack of control over disbursements as well as supporting an extension to higher value claims when the time is right.
Contact
For more information please contact Simon Denyer, Strategic Legal Development Consultant
Simon.Denyer@dwf.law