The last 12 months have been another year of growth for our global Corporate team, including advising on a number of high-profile transactions for clients across a diverse range of sectors.
Key performance overview
The team has completed transactions with an aggregate value of just under £9bn

Our average deal value has more than doubled

The last year, over a third of our deals have been in the technology sector, demonstrating the success of our sector led approach and our use of technology-driven solutions to improve the deal process for clients

We are continuing to deliver pragmatic, innovative and straightforward advice both nationally and internationally
We have seen a sustained volume of high calibre deals despite concerns over post-Brexit investment, with transactions in the energy and industrials, financial services, real estate, retail, food and hospitality and technology sectors.
Sector breakdown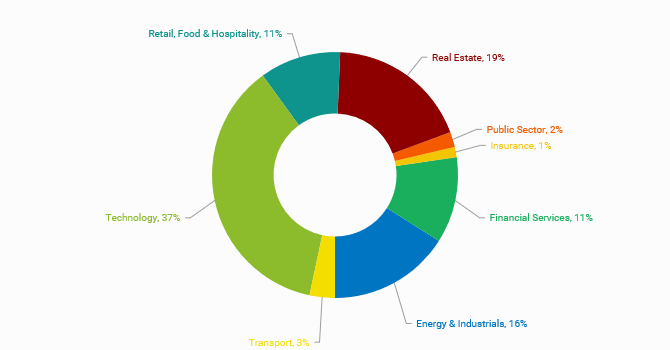 Key trends
Over and above the significant activity in the technology sector, we have seen a material increase in the number of cross border transactions which plays to our international capabilities.
We have continued to advise our strong corporate base including companies such as Arlington Industries, Assura, Burtons Foods, Equiniti, Keywords Studios, Pepkor Europe and Pepsico.

Despite a period of economic and political uncertainty private equity appetite has remained strong and we have received an increased level of instructions from leading mid-market PE firms including Aurelius, BGF, Colony Northstar, ECI, Endless, Inflexion, Livingbridge, LDC, Maven, Northedge, Palatine Private Equity, Prefequity, Sovereign Capital, Stage Capital and Waterland Private Equity.

The public equity markets have remained surprisingly robust and we have worked with Berenberg, FinnCap, Jefferies, Liberum, N+1 Singer, Stifel, WH Ireland and Zeus Capital.
Contacts
Our expanding Corporate practice has specialists in ten UK locations as well as across several of its global offices, most recently boosting its Singapore office. Key individuals are locally offering pre-eminent transactional advice to businesses across a range of sectors including technology, financial services, retail, food, insurance, energy and real estate.
Visit the Corporate page of the website to find out more and sign up in our GDPR preference centre to receive future high level information from our Corporate activities.