Whether spare parts for aircraft turbines, durable hip joints or even customised elements for new cars, 3D printing has revolutionised manufacturing. But one aspect has been largely overlooked: the many legal issues raised by the use of this technology.
In a bid to explore the legal ramifications of developing and implementing new technology, global legal business DWF hosted a day-long forum event at Cologne's Steigenberger Hotel on 12 February.
Speakers included DWF's Global Head of Technology, Klaus Brisch, alongside academics and economists. The day was attended by more than 120 representatives of business and industry.
According to Professor Gerd Witt of Duisburg-Essen University 37% of German firms were already using the technology and 12% were planning to do so, generating "a fourfold increase in sales in four years".
Max Rehberger, Additive Manufacturing expert at TÜV Süd, raised the issue of the protection of intellectual property. He also emphatically supported standards as the basis for certification. There were now two standards in the 3D printing sector, but "that can only be a first step".
Dr. Maximilian Munsch, Managing Partner of Ampower, a Hamburg-based consultancy, pointed to the enormous importance that 3D printing already had in medical technology, adding that sales would continue to rise. However, setting up qualified production represented a "substantial investment" for a business, requiring "unconditional commitment from the whole firm".
Carl Fruth, Chairman of FIT AG, a specialist in Additive Manufacturing solutions, dispelled many an illusion: "If you think you're buying a machine that can do anything, forget it." He said that mass production was still a long way off and more experience and a greater deal of investment were needed. He added that "the legal situation with regard to intellectual property is becoming increasingly complicated."
That was confirmed by Marco Müller-ter Jung, Partner and an Information Technology Law Specialist at DWF, who added that it would be wrong to think that a licence agreement would suffice for Additive Manufacturing. He made specific reference to the protection of intellectual and commercial property. One issue was where existing rights could apply and where new rights should be created. His conclusion: "There is no one-size-fits-all solution."
Johannes Casper, Additive Manufacturing Expert at MTU Aero Engines AG, cited examples from his own company that production with 3D printing had led to a 50% reduction in weight and an 80% reduction in cost.
Dr Dominik Rietzel said that 3D printing was already in use at BMW in order to fit cars with parts that could be produced especially for individual customers. "Customisation is a new business area for us", said the firm's Head of Additive Manufacturing Non-Metal. His advice to his participants: "Start with small quantities in 3D printing – even that is worth it." Klaus Brisch, certified Information Technology Attorney, indicated the need to apply standards and norms and to insert them into the relevant agreements. Each individual standard in the process chain needed to be looked at closely. Correspondingly, product liability law and tort law required lawyers to have in-depth knowledge of the industries concerned. His advice: "intensive communication between engineers and lawyers".
As secure data exchange plays a fundamental role in 3D printing, a panel discussion during the event was dedicated to Blockchain Technology. Professor Volker Skwarek from Hamburg University of Applied Sciences reported on his positive experiences with protection for building parts. Dr Martin Holland, a Senior Executive with Prostep AG, described the advantages of Blockchain Technology in protecting against plagiarism. DWF lawyer Daniel Groß explained why legal advice was essential before starting a Blockchain product. In conclusion Dr. Wolfgang Richter, DWF's Executive Partner in Berlin, touched on the subject of "Crowdfunding, Tokenisation and ICOs as a financing model for Additive Manufacturing".
Ultimately all the participants in the fifth forum were unanimous on one point: the need for lawyers and businesses alike to understand technology and its legal implications.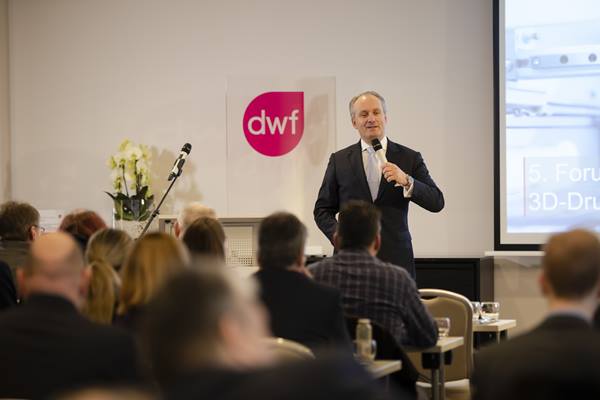 Klaus Brisch, Partner and Global Head of Technology at DWF, welcomed more than 120 business executives from all over Germany to the 5th 3D Printing and Law Forum in Cologne.
(pictures: Matthias Sandmann for DWF Germany)
Contact:
DWF Germany Rechtsanwaltsgesellschaft mbH
Marcel Rodriguez
Business Development Manager Germany
T +49 221 534098-0
marcel.rodriguez@dwf.law